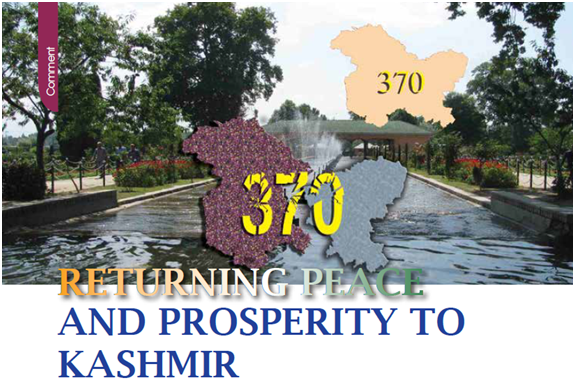 It has been an often repeated truth that Kashmir is a Paradise on earth which had unfortunately become a hell of hatred and turmoil by self inflicted pain which may be blamed on many actors but all said and done it was self inflicted.
The most important question about Kashmir has been whether the ethnic identity should be preserved at all cost and whether that is more important than socio economic development for the people and whether both are exclusive of each other and one has to be achieved at the cost of other or there is a via media.
The problem of turmoil everywhere in the world now a days is compounded by the fact that human civilization has still not accepted the fact that all humans everywhere are basically the same.
Unless and until all humans understand and acknowledge this fact and accept with humility that they are not the centre of universe no everlasting peace can ever happen on planet Earth.
This is the paradigm even before the people of Kashmir and India as well.
In Kashmir there has been a combination of influence on lifestyles of Kashmir and Muslim and Hindu cultures have got so much intertwined that they do not seem to be only coexisting in peace but rather it seems that the mingling was so intense that they both imbibed the core characteristics of each other, this is what made the people of Kashmir only Kashmiri rather than being a Kashmiri Hindu or Kashmiri Muslim or Kashmiri Pandit even the Islam that existed in Kashmir was more of a Sufi version and Kashmir probably was the only place on Earth where Sufi saints were known as Rishi's.
This Kashmiri at aura common Kashmiri culture which had been a binding factor between Hindus and Muslims this could provide solution to age-old Kashmir problem but unfortunately post 1990, the terminal does not have only and external dimension rather it has become inherent maybe because of the perception of youth that they do not have employment and income even after 50 years of the independence of the country and they feel neglected for marginalised.
So actually the perception probably is because of the socio economic issues because of the society lagging behind the rest of the country are the economy not delivering enough jobs, enough income to a lower standard of living as compared to the rest of the country but this reality has actually been converted into an agenda of freedom or sovereignty or Azadi for identity of the people by the vested interests. The socio-economic agenda which is the real agenda probability of youth and people of Kashmir has been Hijacked by the political Elite with vested interest for their own sake and it has created the hatred and turmoil which we see now and which it seems is so difficult to remove.
In all difficult areas whether it is Kashmir or North East, it is always the unemployment and loss of income and stagnant economy which provides the fodder for insurgency so it is clear that reviving the economy and providing employment in a big way is a mission mode apart from reviving the age old culture of Kashmir providing a permanent solution to Kashmir internal problems.
For external angle, India is a country is strong enough editor as well as attack if outside forces try to medal within Kashmir because Kashmir has been treated always as an integral part of our country and will remain so.
It is not that in the past, there have been no attempts to solve this problem because apart from bringing peace and prosperity to this Paradise on Earth there are political and strategic reasons for us wanting to have peace there.
The present government seems determined to bring an everlasting solution to this age old problem. While the revocation of some few articles of the constitution and change of some laws make read the way forward but it may not bring the solution unless and until jobs are created for youth in world their elimination is broken and people are brought on board with massive development by central government projects even if by passing the state government if need be.
DK Bhalla
To read the further articles please get your copy of Eastern Panorama September issue @http://www.magzter.com/IN/Hill-Publications/Eastern-Panorama/News/ or mail to contact @easternpanorama.in