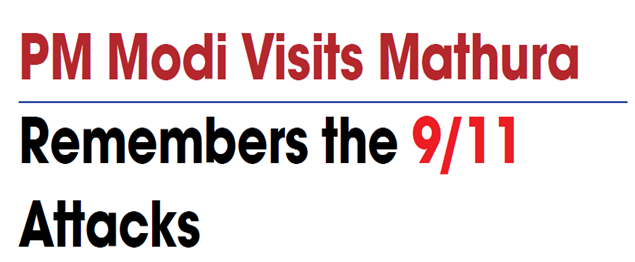 Remembered the 9/11 Attacks
Prime Minister was in Mathura for a day where he addressed the nation on several important issues, one of being was on terrorism. He addressed that, today terrorism has become an ideology which has transgressed every border. It is a global problem and has become a global threat, whose strong roots are getting nourished in our neighbourhood," Prime Minister affirmed that India was capable of meeting the threats without referring to Pakistan by name. The entire world needs to take a pledge to combat terrorism, the forces that were advancing its cause and those giving shelter and training to terrorists.He said, "There is a need for strong action. India is fully competent to face the challenge. We have shown this and will also show it in future."
India has experienced the worst terror attacks said to be allegedly engineered by Pakistan associated with terror group Lashkar-e-Tayyiba, including the November 26, 2008 rampage by 10 gunmen in which 166 people were killed in Mumbai including assaults on at least two five-star hotels, the city's largest train station, a Jewish centre, a movie theatre and a hospital. More recently, the deadliest terror attack on February 14, 2019 suicide car bombing, where a car laden with massive explosives in Pulwama district of Jammu & Kashmir ramped into the Central Reserve Police Force (CRPF) bus leaving 44 troopers dead. The bus was part of a huge convoy of 2,547 CRPF personnel who were travelling in 78 vehicles from Jammu to Srinagar. The Pakistan-based terror group Jaish-e-Mohammed had claimed the responsibility for the attack.
Almost 3,000 people were killed when hijacked planes smashed into the World Trade Centre, the Pentagon and the Shanksville field in Pennsylvania on September 11, 2001, in the world's worst act of terrorism. The 9/11 attacks not only became the single deadliest terrorist attack in human history, they were also the deadliest incident ever for fire-fighters, as well as for law enforcement officers in the United States.
Remembering the 9/11 attack, Modi said, "September 11 is also a special day for another reason, as it was on this day a century back when Swami Vivekananda delivered his historic address in Chicago."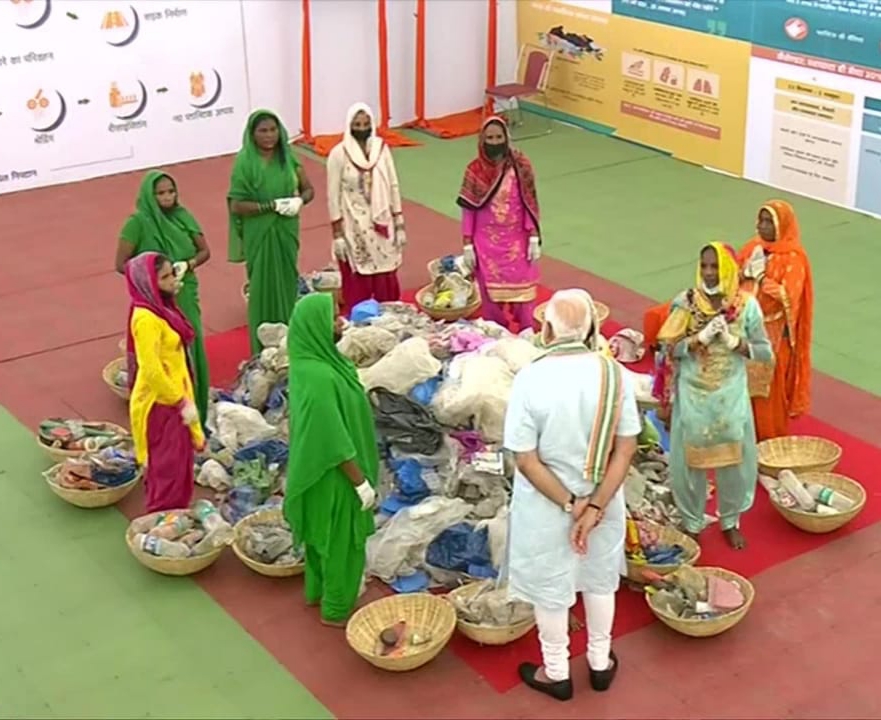 Emphasised on Waste to Wealth
Invoking the need for balancing economic imperatives and the environment, Modi launched the National Animal Disease Control Programme with the cost Rs.12,652 crore in the holy town of Mathura. Following he said, "Cattle wealth has always played a pivotal role in the rural economy, yet there are those who believe that the words 'om' and 'gau' would take the nation back to the 16th-17th century. This type of knowledge has only been used by people hell-bent on damaging the country and they have left no stone unturned to do so," He uttered without naming anyone.
The campaign is aimed at vaccinating cattle to eradicate the foot and mouth disease (FMD) and brucellosis, a bacterial infection, among livestock. Over 500 million livestock, including cattle, buffalo, sheep, goats and pigs, will be vaccinated against FMD. Thirty-six million female bovine calves will be vaccinated yearly in the fight against brucellosis. The programme has two components to control the diseases by 2025 and eradicate them by 2030.
To read the further articles please get your copy of Eastern Panorama October issue @http://www.magzter.com/IN/Hill-Publications/Eastern-Panorama/News/ or mail to contact @easternpanorama.in