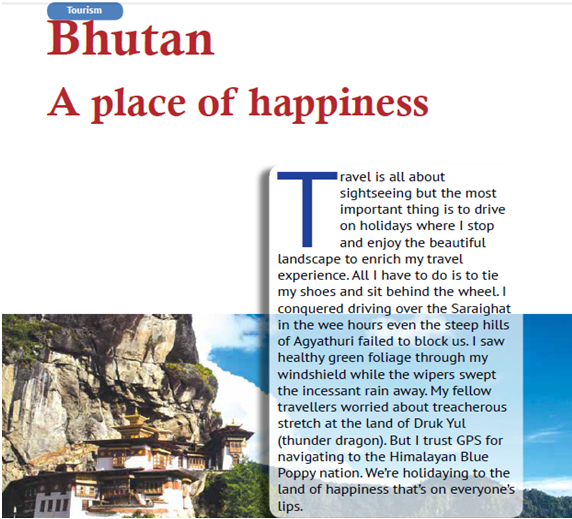 A high protein-packed breakfast satisfied our appetite all day long. We sipped special tea at Tamulpur. After three hours of driving, we saw amazing views of tea garden to soothe our eyes. The infamous Darangamela is now a place of business hub for eastern Bhutan. The Kurichhu Hydropower Plant built across the Kurichhu River that flows into the river Manah and Beki. A decorative gate caught our attention. The Royal Bhutan Police had politely asked to report for immigration. With utmost respect and generosity, the officer asked a few questions of our arrival. We earned the bragging rights to cross an international border for being Indian. The sign of Indo-Bhutan treaty of friendship made us feel at ease.
Samdrup Jongkhar is the oldest town bustling little settlement of few thousand people but it's a new Dzong (Administration) along the mountain passes to protect from incursions. I drove carefully passing red plated cars on a smooth road as I was aware of the strict rules of the road. Alas! My network had shown no service. There was nobody around over fertile valleys and blue pine forests. Bhutanese tradition of designed gate is the example of exquisite craftsmanship and beautiful wood painting. At the gate of Dzongkhag (District Admin), the security had little help to my queries; rather he kept inside AC check post. I was taken aback while seeing the brightly painted veterinary hospital. The happiest place on earth gives priorities to its society for Gross National Happiness. They preserve natural environment, traditional culture with good governance for socio-economic development.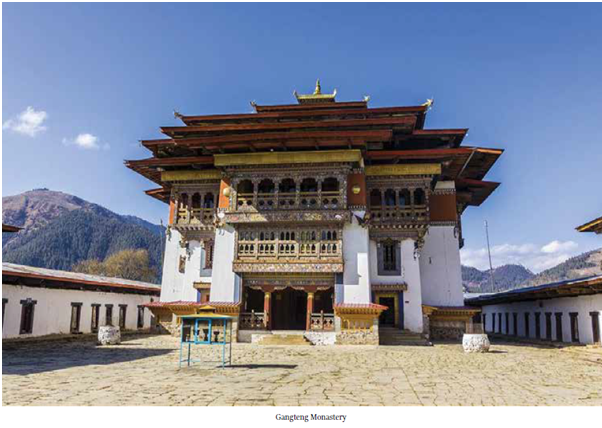 It's a Buddhist country with young monarch Jigme Khesar Namgyel Wangchuk, who brought democracy and Je Khenpo is the head of the state religion. The spectacular Rabdey Dratshang Druk (Thunder Dragon) is a place for Buddha's teachings. The spiritual Chagdud Tulku Rinpoche is worshipped with the founder of Buddhism. The pagoda excavated interiors have probably been influenced by Hindu architecture. The Court is standing lonely. I found the atmosphere peaceful and the chanting was mesmerizing. Walking around the monastery is one of a kind experience. I clicked various snaps but monks wearing gho/kira (dress code) didn't seem mind it and ignored us.
We began to drive for Tashi Gasel Lodge perched on a hilltop. The landscape is dotted with colourful prayer flags (lung-ta - wind horse) fluttering in the breeze. We enjoyed the gentle wind and saw the mesmeric views of the entire valley at one go. We let out a long sigh of despair for long wait times at the restaurant. Bhutanese go simple lifestyle and don't believe windfall. We left with some energy drinks. We drove down the hills through beautiful Dungsamchu Bridge. At one point, I was unable to find the way for being Bhutanese script (Dzongkha). People speak a mixture of Hindi-Bhutanese. The sleepy town has no traffic signals but police keep vigil at every intersections. The roads are one way and parking strictly followed.
In every hotel there is a restaurant cum bar. We ventured out some local cuisine. They are less oily but spicier. Bhutan has embraced the ambitious goal of becoming the world's first 100% organic nation. The visit isn't complete without sampling ema datchi (chillies–national dish), hot dumplings (momo) and fermented drinks. We had great experience to have authentic foods. They happily accept INR besides their currency Ngultrum. The market area was calm and a few buyers around. There were no hawkers and costermongers pushed for sale. Bhutanese are enjoying life in the slow lane while we've never ending to-do-list of things. They don't probably need medication for stress. Thus it called the happiest country. The prayer wheel at Mani Dunkhor spread spiritual blessings. There is a picture of the King just about everywhere. People weren't busy and took relaxing at the street behind the blue signboard.
As souvenir we brought wooden carved mask, the traditional art of Bhutanese culture from Mella Bazaar. I carefully took my car back to the street but I landed up with wrong direction. The Traffic suddenly arrived and stopped us. Perhaps he didn't follow my destination Assam. I heaved a sigh of relief after saying India then he allowed going. I followed the right road and promised not to say anything but my country. It was wonderful treat to have a very polite and doting policing everywhere. The simplicity of their manners and strong sense of religion preserve their culture.
James Hilton is truly inspired by the magical Shangri-La later turned into a movie Lost Horizon. Bhutan Tourism uses the tag line Happiness is a place, the shortened version of a Finish proverb "Happiness is a place between too much and too little". I slowed down while stared at mesmerizing monastery and realised, "If happiness is a place, Bhutan will surely fill the tagline". The drive through remote Himalayan Kingdom was a peep into another world. We wined and dined there and have carried happiness to my native land.
Kamal Baruah
To read the further articles please get your copy of Eastern Panorama November issue @http://www.magzter.com/IN/Hill-Publications/Eastern-Panorama/News/ or mail to contact @easternpanorama.in