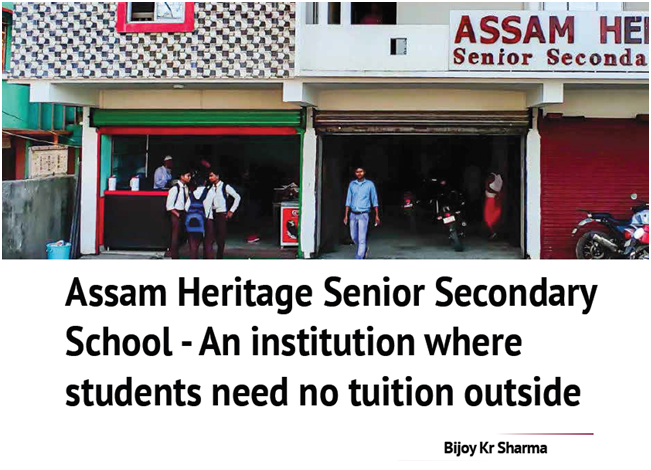 In present education system, where most of the teachers of schools are running parallel commercial coaching in their tuition centres and compelling students to take private coaching but to break this commercialization of education in the name of private tuition centres, a seed of education is already planted this year at Gauripur (Assam) with 100's of students in the name of Assam Heritage Senior Secondary School with the message that "Our students don't need any private tuitions as because we are with them".
This newly established higher secondary school at Gauripur really is an example and takes challenges to break the parallel tuition system which is slowly killing the aim and objective of the schools and colleges in the society.
It is a fact, that the interest of students to attend the school is gradually losing, rather they become ironically dependent on private tuitions of their school teacher and if this goes on, the country will lose the best brains and talents who cannot afford the fees of private tuition.
Assam Heritage Senior Secondary school is now growing as an inspiration for other schools and acting as a magical mirror in which we can see a better education system and that should be without any parallel private tuition system.
Assam Heritage Senior Secondary School (AHSSS) at Gauripur in Dhubri district is an initiative of a group of educationist, engineers and social activists. AHSSS is founded to reshape the way people opt for educational services in this region.
Gauripur is widely known for the birth place of Pratima Barua Pandey. The School is building an aesthetic cultural linkage between the two towns of Gauripur and Dhubri.
Talking to Associate Editor of Eastern Panorama, Bijoy Kumar Sharma, Managing Director of AHSSS, Sheikh Khairuzzaman told, every child is a special child; we only need to make them capable to search for their inner talent. We should always ask a child about his/her passion and dream and how he/she can perceive it, rather than make him follow the dream of others.
Khairuzzaman said that AHSSS is a cumulative initiative of a team of educationists, engineers and social activists from the region with a noble thought of educational, social & cultural empowerment through the most scientific and advance techniques, and perhaps the only institution where student need not take any tuition from outside as institution itself takes care of it.
"The school is established for the education of both boys and girls in English as well as Assamese medium for secondary school from the region and beyond. The school will follow the courses conducted by AHSEC", Khiiruzzaman said.
Khiiruzzaman while talking on their commitment said that AHSSS was committed to nurturing pupils to develop their potential and be well equipped to face the challenges of the future with confidence and enthusiasm. The school building is aesthetically designed to accommodate the latest state of art infrastructure to fulfil the needs of growing children and exemplify the local tradition, he further added.
Principal of AHSSS, Dhruba Mahata also spoke on various issues of education pattern now in Assam and said that Assam Heritage Senior Secondary School, where education means all round development of a child. This is a school that has a mission to make each child achieve his or her best. The role of this school is not only to pursue academic excellence but also to motivate and empower its students to be lifelong learners, initial thinkers and productive members of society, he added
"We at our school respect the unique individuality and talent of each child and try to give our best efforts and academic support to actualize their dreams. In our school, we give lots of importance to make discipline, a foundation of a responsible man, encourage students to develop a sense of responsibility through a well-planned academic curriculum", Mahata said.
Mahata believes that child would be successful in life if they accept and honour their dream and inspire them to become what they want to be and in this the role of teachers, students and guardian was equally important for achieving the goal, and let's do best and in hand like the members of the same family.
Management and team of experienced teachers were doing their best to give the students the best education so that they could actualize their goal and with this motto they welcome students to Assam Heritage Senior Secondary School as because we believe in the great saying of our beloved Dr. A. P.J. Abdul Kalam -"The purpose of education is to make good human beings with skill and expertise. Enlighten human being can be created by teachers," Mahata quoted.
AHSSS said, they were committed towards hard work and perfection. AHSSS team endeavours to bring out the best in every student by imparting strong educational foundation and constant innovation in offering exceptional student experiences especially in context to emerging challenges in the 21st Century and AHSSS is a revolution in the field of education in this region.
It said that the education system was quite emerging in the other regions and beyond North East, most of the schools and colleges of the North East offer class XI & XII course only, which is sufficient only for board exam. Hence, students are not well equipped with concept to compete in the various competitive exams or they lag behind in their higher studies.
This striking issue compelled AHSSS team to provide advanced learning based educational services to the region. Our team has been working together to impart such services to students so that they can qualify in various competitive entrances and excel in higher education, it added.
Bijoy Kr Sharma
To read the further articles please get your copy of Eastern Panorama December issue @http://www.magzter.com/IN/Hill-Publications/Eastern-Panorama/News/ or mail to contact @easternpanorama.in