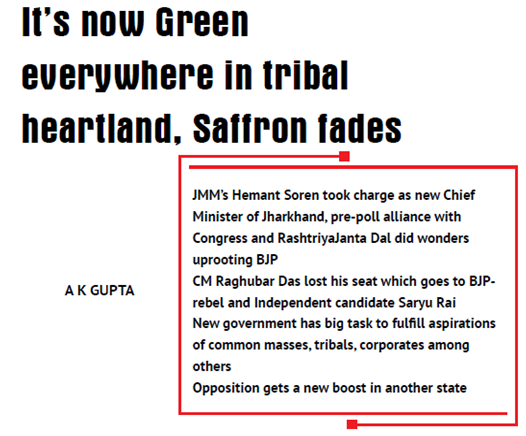 It's Green everywhere with little signs of saffron in Jharkhand as the tribal-dominated state voted Jharkhand MuktiMorcha and pre-poll alliance partners Congress and RashtriyaJanta Dal to power giving a clear mandate to serve 3.30 crore population of the mineral-rich state.
This is second decisive mandate by the voters of Jharkhand. First they did it in 2014 giving a clear mandate to BJP and ally and now in 2019 to the new political dispensation uprooting Raghubar Das government allegedly due to anti-tribal stands, chief minister's sheer arrogance, previous government allegedly relaxing land laws to facilitate industries, in-fight amongst the BJP leadership among other.
The poll results have virtually pumped fresh bloods into the leadership of Congress as well as RJD as for the first time Congress could win as many as 16 seats in 81-strong assembly while RJD with a tally of only one seat is lucky enough to forge a pre-poll alliance at the juncture when Lalu Prasad is serving jail terms in Jharkhand in connection with the infamous fodder scam.
JMM's tally of 30 seats makes the grand old party associated with Jharkhand separate statehood movement, the biggest one with Governor DroupadiMurmu administrating oath of the office to new Chief Minister Hemant Soren facilitating formation of next government in the state. The oath-taking ceremony took place on December 29 at sprawling Morabadi grounds in Ranchi. Besides Chief Minister Hemant Soren (he became Chief Minister for second time), Congress's newly-elected MLAs RameshwarOraon (party's state chief) and AlamgirAlam took oath while from RJD quota, lone MLA SatyanandBhokta was lucky enough to get a ministerial berth in the new cabinet.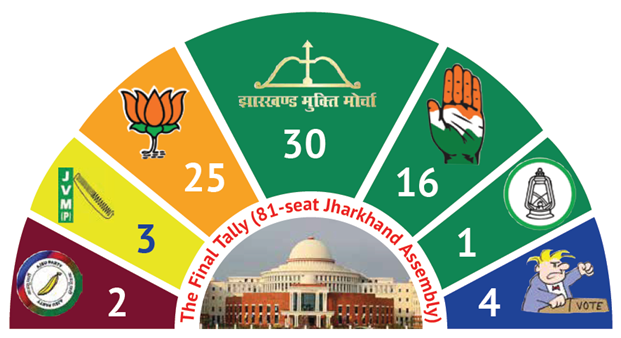 At Morabadi grounds, the oath taking venue,it was time to show Opposition's unity as leaders like Rahul Gandhi, Bengal Chief Minister Mamta Banerjee, Bihar's former Deputy Chief Minister and Lalu's son Tejaswi Yadav, Rajasthan Chief Minister Ashok Gehlot, Chhattisgarh Chief Minister Bhupesh Baghel among others were present when Hemant Soren was sworn-in as new chief minister of the state. Congress Parliamentary Party chairperson Sonia Gandhi also extended her good wishes for the Hemant Soren government as she wrote in a letter addressed to latter "Expectations from you and our alliance are very high and the people of Jharkhand are looking to us to provide a transparent, accountable and responsive administration." She even mentioned that the momentum and direction lost in the last five years (during the BJP rule), will be restored and new initiative for the welfare of all sections of Jharkhand's society will be launched soon.
The new government also holds its first cabinet meeting after the oath taking ceremony. The cabinet decided to lift cases against the tribal people who were charged for sedition during the Pathalgadi movement, which brought Jharkhand into national limelight as tribal pockets mainly Khunti, locals resorted to ensure self-governance in Schedule Five areas as enshrined by the Constitution, by way of putting up stones in the village boundaries and not allowing outsiders in various places. In past, there had been reports of police access against the tribals who were part of the movement which also saw violent protests too and government trying to suppress the movement.
The results declared on December 23, ensured anotherclean verdict by the voters of tribal-dominated state. It ensure formation of a Grand Alliance government in the state as the pre-poll alliance of JMM, Congress and RJD clinched as many as 47 seats in 81-seat strong Vidhan Sabha. Besides. JVM (P) chief and former Chief Minister Raghubar Das has offered unconditional support to the new government. JVM won total three seats. Moreover, CPI (ML)'s lone MLA Vinod Kumar Singh has also pledged support to new government.
Unpopularity of Raghubar Das has led the BJP's prospects taking a southward trend even as Prime Minister Narendra Modi and Home Minister Amit Shah campaigned aggressively in the poll-bound state and tried their best to polarize the voters on issues like Citizenship Amendment Act (CAA), Ram Temple, article 370 etc. They must have been informed about the unpopularity of Das but despite best efforts, they miserably failed to bury anti-incumbency factor.
In fact. Two seats where Modi campaigned-Dumka and Barhait in SanthalPargana region—went to JMM fold as Hemant Soren (He fought from both the seats) emerged victorious defeating BJP candidates in both the places.
With Jharkhand, BJP has lost the fifth state in a row while Congress has started to regain strength. Although piggy-riding on regional allies. In the 81-seat assembly, the JMM-Congress-RJD coalition has clinched 47 seats, which is a comfortable majority for the allies to sail through next five years in otherwise fragile political atmosphere of the state which in past has even seen an Independent (MadhuKoda) holding the chair of the Chief Minister.
Polls were held in the state in five-phases as government claimed to do so in apprehension of Naxal related incidents. But political grapevines claimed that the five phases elections in a smaller state like Jharkhand with only 81 assembly segments was a ply on part of BJP to buy time to win the confidence of people at large, who were not at all satisfied with the way of functioning of Raghubar Das government.
People at large rejected a few former bureaucrats, IPS officers and high profile candidates besides turncoats who were in the poll fray-with majority of them got defeated cutting across the party lines. They included former IPS ReziDungdung, former IAS J B Tubid and turncoats like Manoj Kumar Yadav (switched sides to BJP from Congress just before the polls), Kunal Sarangi (joined BJP from JMM before elections), Sukhdeo Bhagat (joined BJP after a long association with Congress) among others.
In the run up to the elections, Raghubar Das tuned arrogant in his working and failed to keep the BJP flock together in the state. His advisers apparently mislead them which resulted into friends turning foes since he became first non-tribal Chief Minister of the state in December of 2014, summed up a political adviser giving reasons for the defeat of BJP in the state.
A K GUPTA
To read the further articles please get your copy of Eastern Panorama January issue @http://www.magzter.com/IN/Hill-Publications/Eastern-Panorama/News/ or mail to contact @easternpanorama.in