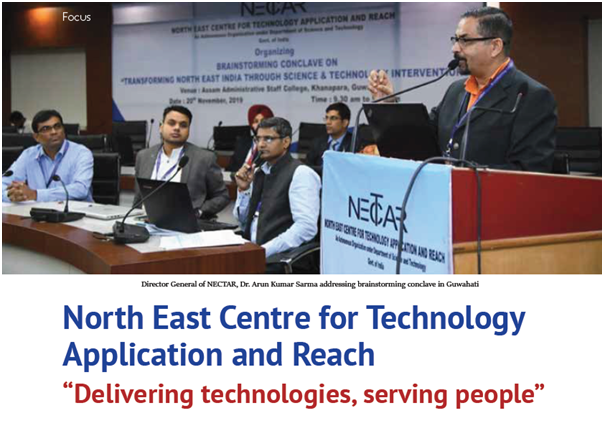 A Brainstorming Conclave was organised by North East Centre For Technology Application and Reach (NECTAR) at the Auditorium of the Administrative College at Khanapara of Guwahati on November last year.
NECTAR has a unique and distinct mandate to be a Solution Designer and a partnership institution in focusing on providing technology applications for unique problems of the Northeast in consultation with State Governments. Once the technology gaps and the needs of the state governments are understood, NECTAR, as per its mandate, is required to scout for appropriate technologies to address the same from centrally funded laboratories/institutes and then on successful demonstration, transfer it to State Governments for replication.
Dr. Partha Jyoti Das, Secretary of an NGO Aranyak, drew the attention towards the flood and suggested various solutions to the perennial flood with the help of existing technology.
Prof P. Mahanta, Director of NIT Arunachal Pradesh, focused on taking some experimental projects on various problems that Assam is conflicting with, while Sh. Ravi Shankar, Director of NID Jorhat, proposed bamboo based industries for manufacturing furniture and other industrial products.
Dr. M. Saharia from IIT Delhi while addressing the conclave put forwarded his suggestion to tackle the flood in Guwahati in the line of Brazil.
Director General of Nectar, Dr. Arun Kumar Sarma concluded the conclave with heartiest thanks to the participants and assured to speed up steps towards implementation of various projects before next financial year.
Dr. Sarma also assured to hold more such conclaves in other states of Northeast region soon.
Thereafter, in a two-day visit to Dhubri district, Director General NECTAR inspected various production units including Asharikandi Terracotta cluster villages near Gauripuri and agro based production units on 21st and 22nd November.
Dr. Sarma also held series of meeting with the entrepreneurs and exchange views with artisans involved in making traditional and indigenous items but unable to compete in the market due to high cost of production.
In a high level meeting held with Deputy Commissioner, Anant Lal Gyani in the chair, Dr. Sarma explained how NECTAR was working and what ways were out and options to switch over plasma technology in agro based units, not only to enhance production of the items but also to add value to them through the Power-Point-Projection in Deputy Commissioner's Conference Hall.
Sh. Jiten Das Dhubri District Cultural Development Officer and District Information and Public Relation Officer (Dipro) in-Charge, explained as how motivated artisans organized a workshop recently to train the selected local people to make Dotara and Sarangi (both musical instrument played in Goalpariya music) here at Gauripur.
In the meeting, Sh. Banashree Nath Dhubri District Development Commissioner, Sh. Nayanjyoti Bhagawati Additional Deputy Commissioner, Sh. Binoy Bhattacharjee Director of North East Craft and Development Organisation (NECARDO), and other officials were present and shared their views in the discussion.
Dr. Sarma spent a lot of time there in Asharikandi village and interacted with artisans engaged in making terracotta and pottery items. Support of plasma technology which hitherto been produced indigenously, will bring a sea change in socio-economical development", Sh. Binoy Bhattacharjee hoped.
Dr. Sarma expressed his satisfaction over the visit of Dhubri district and shared positive outcome of it and expected that there are ample of opportunities to change the entire socio-economic scenario in the district. I have received positive response from all corners, and let's see how far we can go.
What is Nectar and how and where is it implementing the techno know-how in the North East India?
Nectar is an autonomous body of Department of Science and Technology, Government of India providing techno know-how to upgrade the product with value addition by applying environment friendly plasma technology.
In an exclusive interview with Associate Editor, Bijoy Kumar Sharma, Director General of NECTAR, Dr. Arun Kumar Sarma informed that Centre wants to ensure application of appropriate technologies for development of North East.
"Appropriate technologies are being used in the areas of agro processing, biodiversity concerns, watershed management, telemedicine, horticulture, infrastructure planning and development, planning and monitoring, and tele-schooling using cutting edge MESHNET solutions, employment generation etc. through utilization of local products/resources and associated skill development", Sarma informed.
Dr. Sarma informed that Centre is sought to be Solution Designer and Partnership Institution and it would be focusing on providing technology Assistance to the State Government in North Eastern Region, particularly assistance to State Government in Technology Assisted Decision Support System Focus on Technology Reach Function, and key areas under NECTAR are Agro Processing , Renewable and Non renewable energy source ,Bamboo Applications, Geo Spatial Applications, Employment Generation, and Livelihood Generation.
Fields NECTAR covering
Agro Processing : North East has immense potential in Agro & Fruit Processing Industry. The Fruits & Vegetable grown in the area is mostly naturally grown i.e. fertilizer is rarely used.
Mandarin Oranges, Pineapple and spices like turmeric, ginger, black pepper are the principal horticulture produce grown in the Region. However, the revenue earned from agricultural sector by this part of the country is low as surplus products get wasted due to lack of initiative in processing, value addition and adequate marketing.
NECTAR is doing its best to support the local producers by setting up small scale processing units along with tying up the marketing linkages. NECTAR has supported setting up of pineapple processing, king chillies pickle making unit and beekeeping activities. Centre is in line to support spice processing facility, mushroom cultivation activity and setting up testing laboratory.
Renewable and Non renewable energy source: NECTAR intends to develop and implement technology based on Non renewable energy resource especially sectors like Solar and wind, in association with national institutes to fully utilise the resources available in NER.
Bamboo Applications: With ecological concerns in the fragile bio-diversity of the North east, NECTAR looks at utilising its strengths attained in the field of bamboo and its applications – locally available resource in abundance for the benefits of the masses.
Major thrust areas are: Composites and Wood substitutes
The technologies related to wood substitutes and composites have been developed, tested and commercialised at entrepreneurial mode.
Bijoy Kr Sharma
To read the further articles please get your copy of Eastern Panorama January issue @http://www.magzter.com/IN/Hill-Publications/Eastern-Panorama/News/ or mail to contact @easternpanorama.in