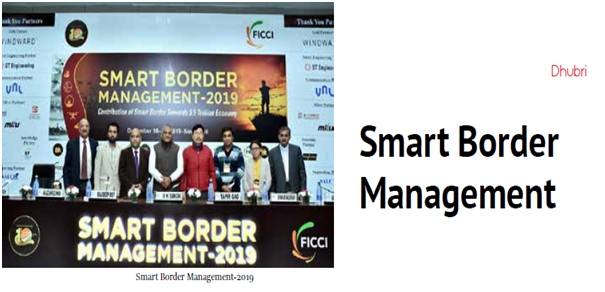 Dhubri District Publicity Secretary of Simanta Chetana Mancha Purvottar, Dipankar Mazumdar caught attention of border management agencies with his innovative ideas to manage the border with direct intervention of people living in the border in a seminar on "Smart Border Management" organised by Federation of Indian Chamber of Commerce and Industry (FICCI) on December 16 and 17.
Mazumdar continued, "I have come here as publicity Secretary of Seemanta Chetna Manch Purvottar (SCMP), which is an NGO established in 2008 to look after various aspects of the people living in the border villages". The SCMP will undertake some measures so that the community could serve as a force multiplier in border management and preventing alienation of border population, winning their heart and minds of formulating people inclusion in border management policies. The demand of SCMP, a border commission was constituted in 2008, where there are two members in the commission from SCMP.
Highlighting the various aspects of intervention with border villagers, he informed that yearly two pre-recruitment coaching camp regularly organised for both boys and girls of border area to make them fit for defence services.
He said, "A very cordial relationship developed between border community and defence personal like BSF, CRPF by the initiative of SCMP where Raksha Bandhan, Bharat Mata Pujan and Deshbhakti Samabesh are some of regular programme on specific annual date. Tailoring school is set up for the border Village for the economical upliftment".
Mazumdar while focusing on the demands of the border people said that mobile and internet service in border area should be provided properly as it is necessary like other citizens of the country while on the basis of reservation, qualified youth of border should also be appointed to Army and BSF. Border people of Assam should also enjoy all the facilities and amenities like those living in Indo-Pak International border, and proper protection and effective measures should also be taken to arrest the unabated erosion by river Brahmaputra and Gadadhar in Dhubri District.
Mazumdar while pointing out the demands and aspiration of border people said that training for entrepreneur skill development, farmers' mandis for agriculture products of border area, agro based industry and central schools to be emphasised.
Border villagers desire that a parallel road should be constructed by Central Public Works department which would connect the National Highway. He said that on the basis of reservation, qualified youth of border be appointed to Army and BSF.
Mazumdar added, like the citizen living in Indo-Pak International border, the citizen of Indo – Bangladesh border should be of the same facilities. Proper protection and effective measures is needed to stop erosion of the river Brahmaputra and Gadadhar of the Dhubri District.
To read the further articles please get your copy of Eastern Panorama January issue @http://www.magzter.com/IN/Hill-Publications/Eastern-Panorama/News/ or mail to contact @easternpanorama.in