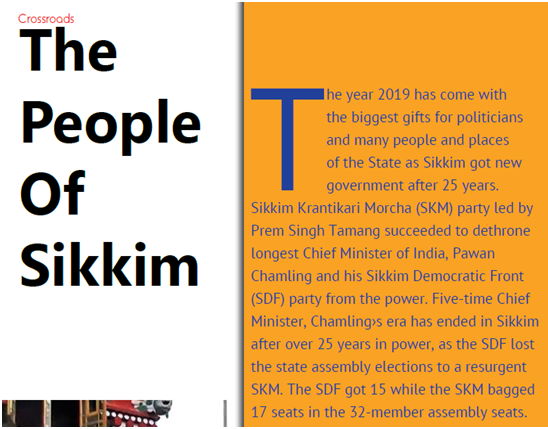 Prem Singh Tamang popularly known as P. S. Golay formed new government as "Parivartan" (CHANGE) after fighting for second time (2014 & 2019 general election). P. S. Golay took the oath as 6th Chief Minister of Sikkim at Paljor Stadium here where thousands of witnessed oath taking ceremony. This was for the first time in the State; general public witnessed the oath taking ceremony of Chief Minister of Sikkim.
Pawan Chamling and his party legislators decided to boycott assembly proceedings till P S Golay, his newly-elected successor, remains in office. Chamling his 15 legislators boycotted the inaugural sitting of the 10th Sikkim Legislative Assembly in protest against Golay holding the chief minister's post unconstitutional. Chamling called Golay is ineligible to occupy any constitutional post after being disqualified from as an MLA, after he was convicted in a corruption case in 2016.
Few months later after losing the power and general election, Pawan Chamling lost his 12 legislators as 10 legislators SDF party joined to saffron party BJP and other 2 legislators switched to ruling SKM and kept Chamling alone as SDF legislators. With the joining of 2 SDF legislators took the tally of ruling SKM party to 18 in assembly. Till date the people of Sikkim were never ever in the favor of saffron party BJP in the State and it was clear from the fact that the BJP had received only 1.63% of the total vote share in 2019 general election.
But in By-election later this year, saffron party went on alliance with SKM party after Election Commission of India (ECI) waived disqualification of P.S Golay. ECI gave green single by waving his disqualification and contested By-election. Chief Minister Golay requested ECI to waive his disqualification from contesting election citing under section 11 of the RP Act, which allows the commission to remove any disqualifications.
With SKM-BJP alliance for By-poll both shared seats, two BJP candidates and one SKM for three assembly seats poll. Golay contested from Poklok Kamrang constituency and won with highest margin. Likewise, people of Sikkim voted SKM-BJP alliance candidates from Martam Rumtek and Gangtok and made officially lotus was bloom in Sikkim Legislative Assembly.
SDF leader, Bikram Pradhan expressed his outrage against SDF legislators who defected to BJP. "The ten defecting legislators is a blunder and we are not going to accept it. The people of Sikkim trusted and voted to the SDF party and with the joining of 10 people representatives to BJP was to barter to sale our dreams and dreams of future generation for their meager personal gain and security. Now Sikkim is unsafe and insecure" said former Chief Whip Pradhan.
All regional political parties except SKM, Chamling's own party men questioned his SDF party presidentship and alleged that the move of 10 SDF legislators to BJP was completely masterminded by Chamling in order to save himself from the CBI, keeping NDA government BJP happy by offering 10 legislators for his selfish and ulterior interest.
With the announcement of allowing 137 mountain peaks for mountaineering and expedition by Home Ministry escalated protest. Among 137 mountain peaks 24 peaks falls under Sikkim. Several political parties, non-government organizations, civil society came forward and registered their protest against the decision to allow 24 mountain peaks of Sikkim including mighty Kanchenjunga Mt. Kanchenjunga, is considered sacred by the Sikkimese as "Guardian deity" and mountaineering and expedition is not allowed and discouraged other for adventure considering it as sacred peaks. With the pressure from every corners State government acted and requested the Home Ministry to roll back their decision.
Under this Place of Worship Act 1991, the Sikkim government had banned expeditions to the Kanchenjungha and other peaks in 2001. As per notification, issued by Home department notification in 2001 banned the scaling of several peaks and defilement of sacred caves, rocks, lakes, chortens and hot springs. Altogether 14 peaks were banned to scale including Mt. Kanchenjungha, are protected as sacred places of Buddhist worship by Sikkim government. Later respecting the Sikkimese sentiments and regional ethics, Home ministry withdrew the decision of allowing scaling of Mt. Kanchanjunga and other 13 peaks of Sikkim referring all those peaks are sacred.
Citing the poor enrollment of children elementary level of government schools, State government decided to shut 25 primary schools across the State from next academic session. In Sikkim, there is a culture to send children in private schools which also one of the factor of mushrooming private schools and institution in the State which caused less enrollment in elementary level of government schools.
State Education Department has given three months deadline to all private runs school and institutes, to register, recognize and renew registration in Education Department. Department also warned that if any un-recognized private schools and institutions found to be operating in the State, they shall be liable for stringent action which may include closure of the institutions under section 18 of the RTE Act, 2009.
After heavy snowfall in the early months of the year atleast 300 yaks starved to death in high altitude place called Munguthang valley in north Sikkim. Large numbers of Yaks had been trapped in Muguthang, North Sikkim, due to starvation after heavy snowfall which caused cut off supply routes to the area. Soon after news circulated in the State regarding the death of hundreds of Yak, High Court of Sikkim took suo-motu cognizance on death of more than 300 yaks due to starvation in the winter session. The High Court of Sikkim has pulled up the State government and Animal Husbandry department and directed to pay the ex-gratia of Rs 45.90 lakh to the rightful owners on account of death of more than 300 yaks due to starvation earlier this year.
Latest census of Orchids of India by Botanical Survey of India (BSI), Sikkim is the home of 560 species of Orchid after Arunachal Pradesh which has 612 species of Orchid. The highest number of orchid species is recorded from Arunachal Pradesh with 612 species and it was followed by Sikkim with 560 Orchid species and Darjeeling Hill have also high species concentration with 479 orchid species in North Bengal. Publication Orchid of India: A Pictorial Guide, a detailing all the species of India was unveiled by the Ministry of Environment, Forest and Climate Change. With the release of comprehensive census report, it shows that North-East India rank at the top in species concentration, while the Western Ghats have high endemism of orchids.
To read the further articles please get your copy of Eastern Panorama January issue @http://www.magzter.com/IN/Hill-Publications/Eastern-Panorama/News/ or mail to contact @easternpanorama.in