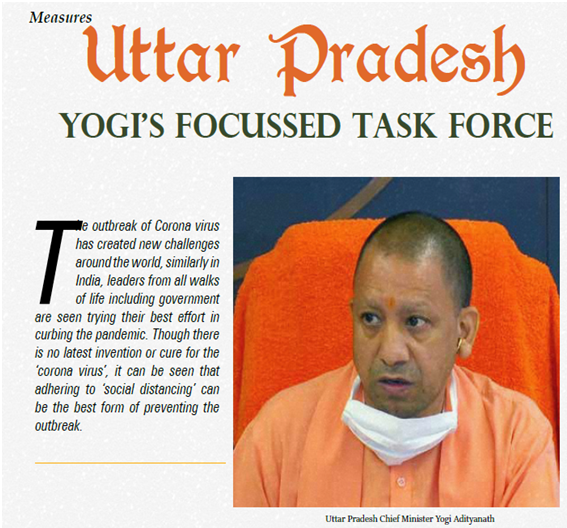 Uttar Pradesh Chief Minister Yogi Adityanath has implemented lockdown strictly and ask field officers including DM's and SP's to patrol Mandis and densely populated areas. The Chief Minister has also directed officers to ensure that the lockdown is followed totally and at the same time citizens should not be facing any problem with regards to their daily needs and essential commodities.
The Chief Minister reiterated on maintaining the social distancing. He expressed concern over the sensitivity of SantKabirNagar in terms of 'Covid' infection and directed to appoint Divisional Commissioner, IG and a health official as nodal officers of the district. The Chief Minister directed to have a series of Covid hospitals, ensuring uninterrupted supply of oxygen and strengthen the training of the staff involved in Covid treatment. He stressed on the training of Medical Education and Ayush students. He said such work should be undertaken on time-bound basis and an officer should be nominated to coordinate the whole exercise. He said, that the testing of all those engaged in supply chain work should be done while maintaining the social distancing in Shelter Homes and Quarantine Homes. He emphasised on the capacity of testing, quarantine wards and isolation wards to be increased. He said the government has set up 'Chief Minister's Distress Relief Fund-Covid Care Fund', which will be used in the testing, strengthening of L-1, L-2 ,L-3 hospitals and purchase of PPE kits, N-95 masks and other protective equipments to fight Covid-19. He said, severely infected districts should be supplied PPE and N-95 masks on priority.
Yogi also warned of stopping misuse of vehicles meant for supply of essentials. "Seize such vehicles immediately if found involved in other activities," he said. He was apprised of the status of community kitchens, door step delivery and food grain distribution. He asked the officials to ensure that besides the old card holders, the new ones should also be given ration. The Principal Secretary, Food and Civil Supplies informed the CM that Antyodaya card holders as well as MGNREGA labourers, registered construction workers, rickshaw pullers and small vendors for distribution of ration. The CM reiterated that the shelter homes and community kitchens should be sanitised regularly and the inmates of these homes should be pool tested along with the quality of food being checked regularly. He added, ''Those labourers who complete their quarantine period should be sent back home with free ration and Rs.1000 as sustenance allowance.
He also enquired about wheat purchase and various agriculture activities. He was informed that the wheat purchase has been commenced at more than 4000 Centres. In addition, 36 lakh quintal of wheat was purchased through mandi and purchase centres. As many as 53000 sale points of fertilizers, 37000 of pesticides and 36000 of seeds are functional while the government has received Rs 1,227 crore from the centre to be used for MGNREGA works in the state. The Chief Minister was also informed that Jayad crop is sown in 8.12 hectares of land. Mentha has been sown in two lakh hectares. Two crore farmers of the state have been providedRs. 4,100 crore financial help under Pradhan Mantri KisanSammanNidhi scheme. The CM also instructed to start industrial activities as per Government of India norms in non-corona districts while ensuring all preventive measures like social distancing, thermal scanning and arrangements of labourers within the premises. He also said that all the doctors and other medical staffs should be insulated of any infection of Covid-19.
To read the further articles please get your copy of Eastern Panorama May issue @http://www.magzter.com/IN/Hill-Publications/Eastern-Panorama/News/ or mail to contact @easternpanorama.in