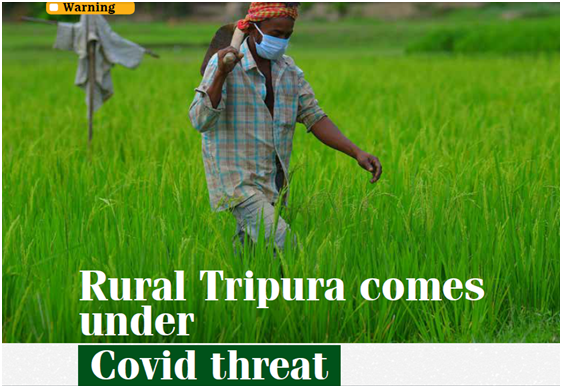 Although indication was clear about the possible havoc of Covid-19 in India for three months, neither central government nor any state of Northeast was ready to tackle the menace. By December end, people of the country could understand the negative occurrences of corona virus in India but the administration was casual till Prime Minister had summoned Janata Curfew on March 20. When the states had started realizing the hit of Covid-19 nothing best was possible except declaring lockdown before Prime Minister clamped it nationwide. The urban society became scared fearing Covid infection due to entry of outsiders mostly in the capital cities and treatment of centres.
Tripura Chief Minister had declared the state as first corona free state in the region but actual infection was started a week after the laurel bestowed on him from all corners. The spike of Covid-19 in a battalion headquarters of a most disciplined force BSF at Ambassa in Dhalai district. Tripura had re-defined the incubation period of Covid-19 virus, which was believed to be appeared within 14 days but in case of Tripura, the lowest incubation was 18 days. The treatment centre was not ready properly – doctors and nurses had to demonstrate for personal protection kits, gloves, mask and sanitizers. When central government repeatedly advised Tripura government to designate an isolated hospital as Covid treating centre, the administration did the reverse by declaring main and only super specialty hospital in Agartala Govt Medical College as Covid-19 treatment centre. Despite getting sufficient time and due warning of worst situation due to spread of Covid-19, unfortunately, Tripura government could not set up well-equipped and adequate quarantine centre for which rural parts of the state is now under serious threat of Covid-19 infection at community level.
The rural economy was collapsed completely for past two years due to inadequate pumping of money to the people except for MGNREGA. Tripura government was expecting an interim booster package for six months of the current financial year, as 15th Finance Commission deferred its recommendation for the states till last quarter of the fiscal. The rural population was eagerly waiting for getting engagement in good amount of infrastructure development works and funding for entrepreneurship nevertheless, it went into vein when Covid forced lockdown in last week of March. The small cash dole and free rice supply to the rural population helped government to earn appreciation but could not erase the hunger of the people. The owes added when the workers of rural Tripura from Bangaluru, Hyderabad, Mumbai and Delhi returned back home losing job there taking the advantage of Shramik trains. The state government is not testing Covid of all the people coming from outside, they had devised a testing method in one for five persons. The people are being sending back to their home in the villages advising them to be at home for 14 days and contact the health department, if Covid like symptom appears. It was estimated, at least 35000 people from various parts of the world and country will return back home in next two weeks and most of them are the resident of rural parts. They were advised to follow guidelines but nobody thinks of rural people who even not have the habit of using soap after toilet or during bath. How can they fight with corona with unhealthy life-style and food habit in distress financial condition?
The government however, announced easy bank loan for agricultural activities and farming to keep rural economy rolling. There are some booster packages for the petty businessmen and street vendors but no comprehensive plan for streaming the rural need including basic facilities. To increase the productivity and market linkage Agri Market Linkage Task Force (AMLTF) is suggested to be formed with a small team of agri marketing experts, department officials, traders and even commission agents.
To read the further articles please get your copy of Eastern Panorama June issue @http://www.magzter.com/IN/Hill-Publications/Eastern-Panorama/News/ or mail to contact @easternpanorama.in