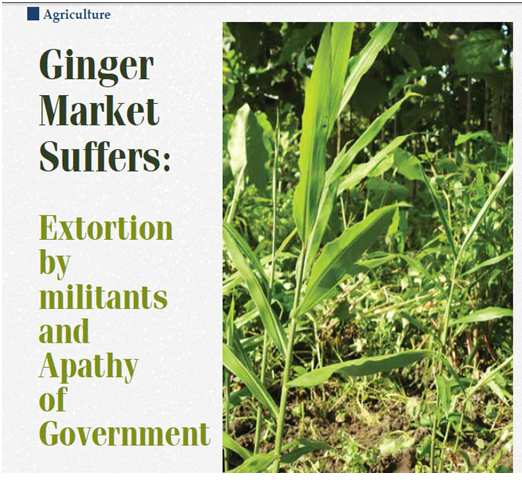 Lack of government support coupled with trouble and unrest in hilly region pushed the ginger farmers of Assam to go for an alternative. Situation goes to such an extent that for farmers ginger cultivation is no longer 'viably cultivable crop' and in hilly region of the state, farmers start shifting to other 'long term items'.

Till 2010, the state recorded a huge quantity of ginger production annually. Ginger produced specially in Assam's Karbi Anglong and then NC Hills (present name Dima Hasao) is known for its quality and organic aspects. Other popular ginger belts includes two lower Assam districts- Nalbari, Borpeta, two east Assam districts – Sonitpur, Darrang, three upper Assam districts – Golaghat, Sibsagar, Tinsukia and central Assam's Nagaon district.

Three fourth of total ginger production of the state is from the two hill districts. Better quality and medicinal value of the product of the hilly region is internationally popular. Two influential tribes –Kukis and Karbis are involved in ginger cultivation.

'Ten years back more than 1000 heavy trucks carried ginger from these areas to New Delhi. Now a days not more than 200 trucks are seen moving in these areas to bring ginger outside the state. Extortion by miscreants disturbs the outsider truckers. Lack of government support to the farmers is another reason why our people hesitates to opt for this' said Kuki ginger cultivator Touthang Thaudang.
Thaudang, 55 years old ginger farmer from Manja area in Karbi Anglong claims that proper financial and technical support from the part of government could bring farmers back to the crop again.
In 2009, Dispur took in hands initiatives to import raw gingers from the state's hilly region to Canada. A Canada based farm signed an MOS with a government initiated farmers federation – Ginfed for large scale organic ginger import. The initiative ended in smoke because of red tapism. The same year Dispur spent Rs 35 lakh for erecting a ginger processing unit which has not seen the light of the day.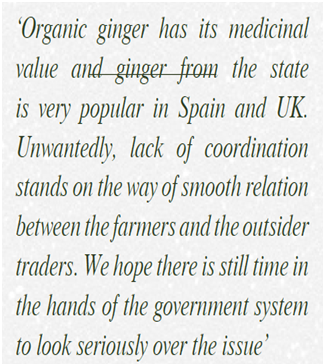 'Actually there was a gap among the farmers, the traders and the government machinery. Had the system brought an end of the problems that might have made Assam the largest ginger producing state in India' said Sarthe Enghi, a Karbi ginger farmer from West Karbi Anglong.

In 2015 Karbi Anglong accorded geographical indication by the GI registry of India. Till 2016 as many as 50 mt raw ginger is exported to European countries annually from the hilly belt. 'As per official record, of the district's 10334 sq km area, as many as 2600 hectare highland area is used for cultivation of organic ginger. Only Karbi Anglong produces 20000 MT ginger annually' said the Karbi Anglong administration source.
Sarat Sarma
To read the further articles please get your copy of Eastern Panorama July issue @http://www.magzter.com/IN/Hill-Publications/Eastern-Panorama/News/ or mail to contact @easternpanorama.in