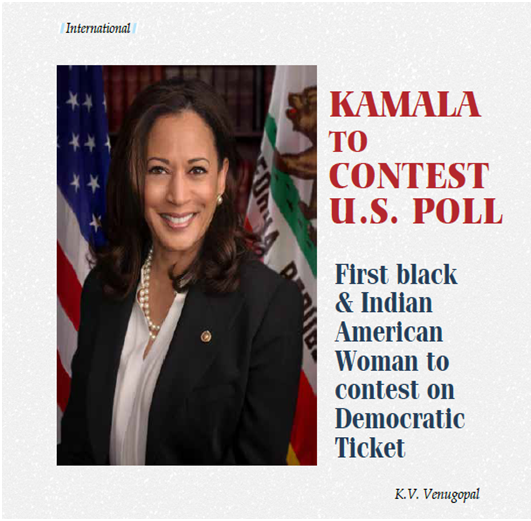 The Indian people all over the world, especially from Tamil Nadu were delighted when the U.S. Senator Kamala Harris, the first black and Indian American woman was chosen to be the running mate of Democratic candidate for the Presidency, Joe Biden. Incidentally, Kamala was born in 1964, to Shyamala Gopalan, a cancer research analyst from Chennai, and Donald Harris, an economics professor from Jamaica. She rose to greater heights as a District Attorney of San Francisco in 2004 and seven years later became the first female Attorney General of California. She was also acclaimed as a progressive prosecutor and played a pivotal role in bringing down the record of the death penalty in the criminal system.
Kamala did not bother when a section of critics blamed her for her pro-establishment stance while initiating stringent action against the notorious criminals during her tenure as Attorney General. Allaying fears that a Democrat Party President would be detrimental to India's prospects, the duo unveiled a foreign policy brief that appears to tally with the interest of the Indian government led by Narendra Modi. The Biden-Harris combine not only boasted their connection with India's age-old traditions, but the septugenarian also reminded India about the important role played by him in clearing the decks for the Indo-US nuclear deal during the tenure of Manmohan Singh government.
Ms Harris also reminded the Non Resident Indians about her Indian heritage, as to how she used to roam around with her maternal grandfather Gopalan in the beach adjacent to his Beasant Nagar residence in Chennai during her childhood and adolecent days and asked her mother to break a coconut at their residence after she was chosen by Biden as his vice-presidential candidate, out of three candidates for the U.S. presidential election, slated for November this year. Like any other politician contesting the poll, Kamala assured a zero tolerance approach towards terrorism, including cross-border violence, by indirecting reminding Pakistan premier Imran Khan about his country's time-bound commitment towards India. The Biden-Harris team has also promised to support India on burning issues ranging from Indo-Pacific to China's belligerence on LAC in the border areas.
It is crystal clear, say some experts on international politics, that the Democrats are hastened to present an alternative route to the incumbent president by claiming that they would be in a better position to ensure that China does not display its big-brother attitude towards India. The Biden-Harris combine also promised that, if elected, their government would make India as a superpower in the Asian continent, if not in Europe or South America. China's hegemonic tendency compels India and the U.S. to come closer today. Bearing this in mind, the Democrats assured a stable and amiable India-US relationship, compared to Trump's eccentric, transactional and unilteral approach. The experts also aver that alliances cannot be forged by India based on the past relationship with the Democrat governments in the U.S., as the mutual reciprocal is the need of an hour.
It did not take much time for India and the U.S. to realise that enemy's enemy is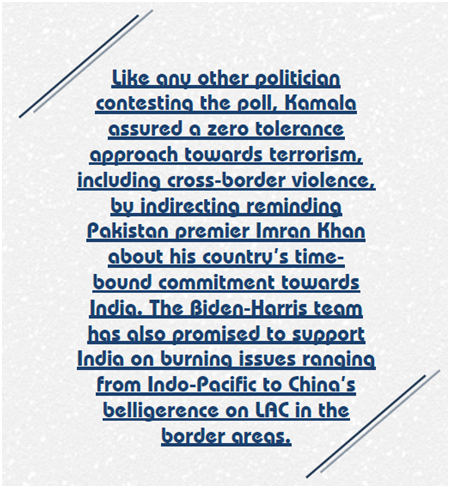 your friend policy does not workout always, and, more so, when it is related to China. The Biden-Harris team is aware that the mere support of U.S. only would not save India from Chinese onslaughts, unless the Modi government is assured of support from the European Union and other Asian neighbours in totality, and not, but not the least from Russia. For instance, Australia insisted on China to reveal the truth on the origination of Covid-19 pandemic, but when the Beijing retaliated with dire-consequences, the Kangaroos caved-in meekly. Even the much talked about QUAD, have not succeeded to the extent desired by its partners, U.S., India, Japan & Australia. Similarly, the countries like U.K & France are more concerned about their trade barrier with China and when it comes to the crunch, they are expected to evade confronting Xi Jinping and his government.
The Russia and Nepal, apart from Sri Lanka to a great extent have made it known that China is more important for them than of India. The Modi government also did not fail to notice Iran's ire against India on the nuclear issue and it remains to be seen how far it will take the Vietenam's allegation against China for the deployment of fighter aircraft in the South China sea and a bomber traced in the disputed Islands seriously, even though, Vietnam has assured of a strategic partnership between the two countries to scuttle Beijing's nefarious designs.
Left with no other alternative, there is nothing wrong in India taking the assistance of U.S. to combat China that is far superior to India when it comes to military and economy, says M.K. Narayanan, the former Governor of West Bengal and an expert in international politics. The present External Affair Minister Jayshankar is firm in his convinction that from now-on, India should adopt the hit-out or get-out strategy with China, as the Xi Jinping government has not reciprocated our earlier gesture that India did not want U.S. to intefere in our confrontation with China when Trump offered his government's intention to mediate between the two big Asian countries. Even a Left-leaning renowned website 'Wire' wrote some time ago that when China does not bother to view the concerns of the Indian government and not even paying a semblance of respect to the Left Parties sentiments in India, especially, the Communist Party of India (Marxist), it is high time for the Communists and Marxists to re-orient their strategy towards China. However, a section of Left Party sympathisers would like to impress upon the people that it is only to divert the domestic issues that are plaguing his government, the Chinese premier is compounding the LAC imbroglio, as echoed by a dissident Communist leader in her vehement critcism against Xi Jinping.
Though, initially Biden opposed the nomination of Ms Harris, as they had a heated argument with heaps of abuses, if not expletives earlier, when Kamala traded her tirade against him as arrogant and incompetent to govern the U.S.
To read the further articles please get your copy of Eastern Panorama September issue @http://www.magzter.com/IN/Hill-Publications/Eastern-Panorama/News/ or mail to contact @easternpanorama.in