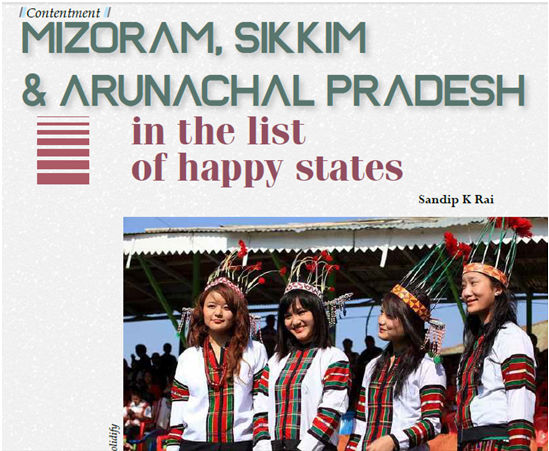 Mizoram, Sikkim and Arunachal Pradesh from Northeastern states have been ranked among India's top 10 happy states mentioned in a nationwide survey measuring happiness.
According to a survey report, two north-eastern states ranked in the top five positions. Mizoram has topped the rankings with 3.57 points, followed by Punjab with 3.52 points and the Andaman and Nicobar Islands with 3.47, Puducherry (3.44) and Sikkim with 3.43 points securing 5th position of all states and union territories.
The survey, which was released recently, is called the India Happiness Report and has been prepared by Rajesh K. Pillania, a professor of strategy at the Management Development Institute in Gurugram.
First of all, India Happiness Report mentioned three Northeast states in top ten ranking. The survey covered all States and Union Territories measuring happiness across the nation, what contributes to the people's happiness, the impact of COVID-19 on happiness an insight from the thought leaders.
The survey was conducted between March and July 2020, among 16,950 respondents across states and union territories. Among other factors, it also looked at the impact of Covid-19 on happiness, in which Maharashtra, Delhi and Haryana showed the worst impact, the report states.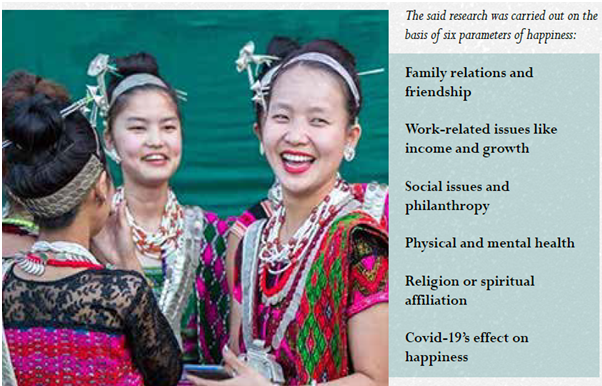 Further, according to the study, the correlation between gender and happiness is not significant, whereas age group, marital status, income levels, and education are positively linked to happiness. The survey reveals that married people are happier than unmarried people.
Based on the said parameters of work-related issues, Assam, Punjab, Andaman and Nicobar Islands, Mizoram, and Puducherry are the top five. On the basis of relationships, Mizoram, Andaman and Nicobar Islands, Punjab, Karnataka, and
Sikkim
rank in the top five. On health-related issues, Andaman and Nicobar Islands, Lakshadweep, Mizoram, Punjab, and Sikkim are the top five.
On the basis of philanthropy, Ladakh, Arunachal Pradesh, Andhra Pradesh, Karnataka, and Mizoram are the top five, whereas on religious/spiritual orientation, Nagaland, Sikkim, Tripura, Andaman and Nicobar Islands, and
Ladakh
are in the top five.
Sandeep K. Rai
To read the further articles please get your copy of Eastern Panorama October issue @http://www.magzter.com/IN/Hill-Publications/Eastern-Panorama/News/ or mail to contact @easternpanorama.in