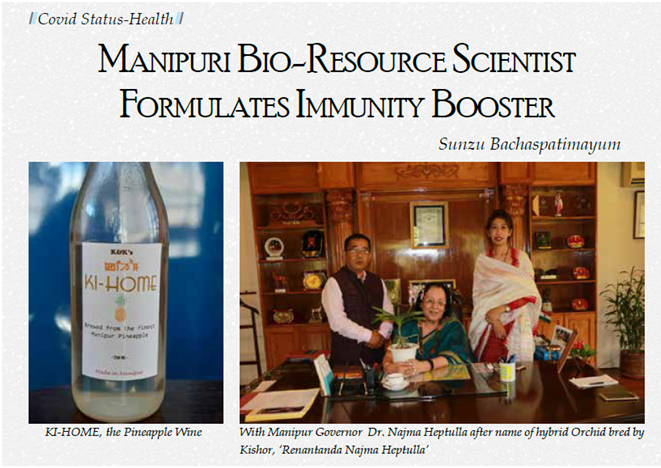 Manipuri bio-resource scientist, Dr. Rajkumar Kishor formulates two herbal health drinks to boost immunity amidst the global fight against the covid pandemic. Dr. Kishor, a cancer survivor, says his health drinks, juiced from three indigenous species of gingers, known for their traditional values for the treatment of common cold, cough, flu and many other ailments would also provide relief to the people living with the noble coronavirus.
A doctorate on the production of hybrid orchids, the Manipur bio scientist has so far bred 15 orchid hybrids and out of these, at least two (one named after his wife, 'Kebisana') has been accepted by the Royal Horticulture Society of London, the world's top organization for hybrid orchid registration.
Although his first love are orchids with goals of preserving the genes of the rare orchids species, to produce noble hybrids and to commercialised orchid growing in Manipur to leverage the fact that the state is home to variety of orchids with orchidologists estimating at least 250 to 300 orchid species. Dr. Kishore has several new breeds and discoveries to his name. He recently bred India's 'hottest hybrid chilli' from capsicum frutescens cultivar, capsicum chinense cv and the hybrid of the two, Bhut Jolokia or U-morok in Manipuri. The Northeast is the country's hotspot in chilli diversity with several pungent chillies, indigenous to the region. The Quality Evaluation Laboratory of Spices Board Kochi verified the pungency of his hybrid chilli, tagging it as the hottest in the country. He named it Capsicum frutescens cv Mashingkha. His interest in the taxonomy of gingers led him to yet another discovery of a new species of ginger, which he called 'Zingiber Kangleipakense'. He also rediscovered 'Kaempferia Marginata' while studying ginger for its inherent anti-cancer properties.
Realizing the rich antioxidant properties and other health beneficial bioactive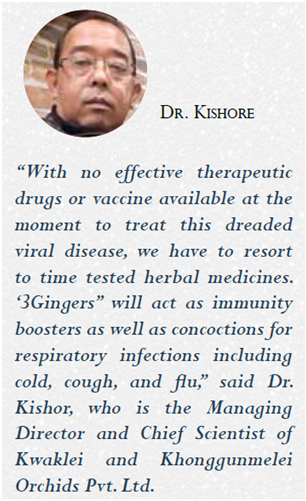 molecules like phenolic compounds, polyphenols, flavanoids, etc. of ginger, the bio-resource scientist came up with idea of the herbal drinks as an immunity booster as well as treatment for concoction of respiratory infections including cold, cough and flu. He named his newest product, the herbal tea and the ginger beer, '3Gingers.'
"With no effective therapeutic drugs or vaccine available at the moment to treat this dreaded viral disease, we have to resort to time tested herbal medicines. '3Gingers'' will act as immunity boosters as well as concoctions for respiratory infections including cold, cough, and flu," said Dr. Kishor, who is the Managing Director and Chief Scientist of Kwaklei and Khonggunmelei Orchids Pvt. Ltd.
Dr. Kishore said, it is his contribution to the global fight against Covid-19 and asserted that his herbal tea and the non-alcoholic beer are formulated from three different indigenous species of gingers, found in the Northeast region of India. He recommends serving a tea bag of '3Gingers' tea after brewing in boiled water for five minutes. "Anybody having flu can have 2 servings a day, while a healthy individual can have a cup a day," said the delighted scientist.
Sunzu Bachaspatimayum


To read the further articles please get your copy of Eastern Panorama October issue @http://www.magzter.com/IN/Hill-Publications/Eastern-Panorama/News/ or mail to contact @easternpanorama.in