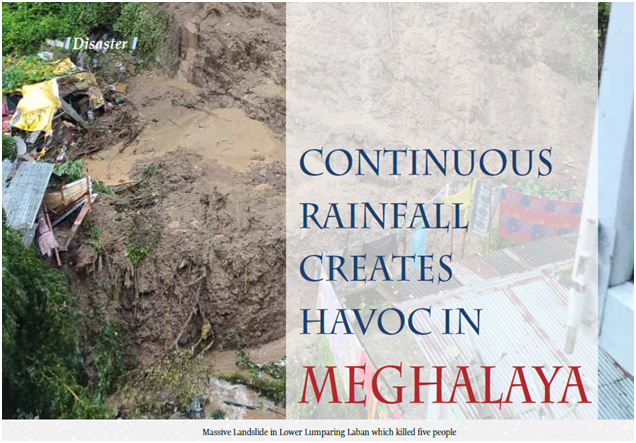 As incessant downpour lashed in Meghalaya for almost a week starting from 20 September 2020 has left a trail of devastation in many parts of the state, leading to deaths of at least dozen of people besides damaging properties, roads, and bridges in different parts of the state. According to Meteorological Department, Meghalaya received a whopping of 260 mm of rainfall especially in Mawsynram areas for at least three days continuously.
In East Khasi Hills 8 people were reported killed due to landslide in Madanrting, Laban and Police Reserve and in Nongstoin of West Khasi Hills, two deaths were reported of drowning while one person was missing and in Mawjai, 6 people were drowned after their vehicle was swept away by strong currents when crossing a river.
Meghalaya Minister of Disaster Management Ma Kyrmen Shylla during the assessment informed that at least thirteen people are reported killed due to heavy rainfall in the state, but unofficial reports suggested that till date, 16 people have lost their lives due to drowning and landslides in various parts of the state. According to a district-wise cumulative report issued by the State Disaster Management Authority, a total of 985 people in 37 villages across East Khasi Hills, West Khasi Hills and Ri-Bhoi districts have been affected because of the continuous downpour. It is reported that several bridges have collapsed and roads damaged in different parts of the state due to landslides and flash floods.
Apart from the loss of lives, continuous downpour of a whopping 260 mm of rainfall recorded in Meghalaya in a single day has resulted in flash flood and massive landslide. So far Flash flood and massive landslide have caused traffic dislocation over Nongstoin, Tura and Mawkyrwat road and the National Highway from Nongstoin to Shillong. Officials and personnel from the State Disaster Response Force (SDRF) along with the Meghalaya Fire and Emergency Services personnel were dispatched in several affected areas to provide rescue and relief to the affected persons.
With regards to compensation, Meghalaya government has decided to release Rs 4 lakh each to the next kin of person who lost their lives in the calamities. The office of the Deputy Commissioner East Khasi Hill in the press statement has urged the family/ next of kin of the people who have lost their lives during the recent natural calamities to approach the office of the Deputy Commissioner, East Khasi Hills District (DDMA) for claiming of ex-gratia payment as admissible under the norms.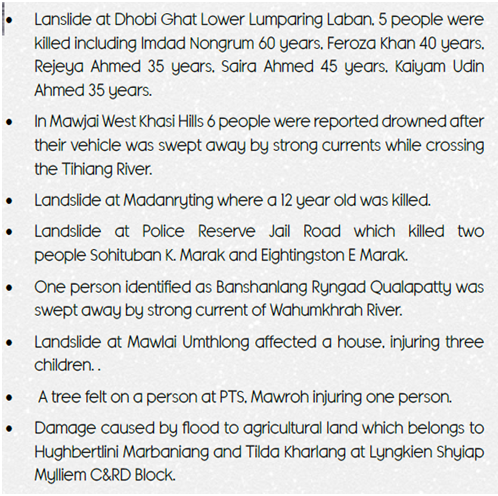 To read the further articles please get your copy of Eastern Panorama October issue @http://www.magzter.com/IN/Hill-Publications/Eastern-Panorama/News/ or mail to contact @easternpanorama.in