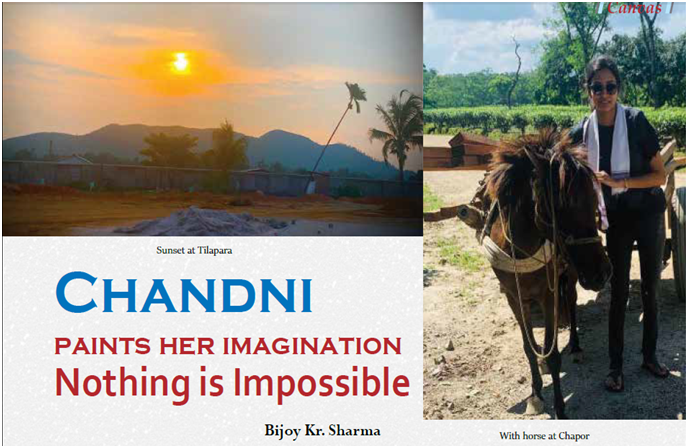 Physical disability is just a state of mind. In real terms, the champions are those who do not let their disability hold them back and enjoy their life to the fullest extent even much better than any other normal being. Chandni Singhi, a 28 year old debayang (physically challenged) girl paints her imagination by creative pencil, colour and still camera, setting an example of a cherished young woman, who is living her life, beyond her challenges. She not only paints the vivid nature and landscapes but also reveals her deep love towards animals and living beings.
She shares her experience during this lockdown, of how, the world was different from what she experienced in the hustle and bustle of Kolkata. This time, she had a time to breathe in the fresh air within the serene of nature full of lush green forest and hillocks in Western Assam.
Chandni, in an informal chat with Associate Editor, Bijoy Kumar Sharma at her residence at Bilasipara town said that she lives in Kolkata with her mother, sister and brother while her father stays in Bilasipara in his native place as he had to look after construction business being the Director of Shree at Construction Co Ltd since 30 years.
"My father hardly gets time to spend with us because he is very busy in his works and particularly after being elected as MLA from Bilasipara (East) Constituency in 2016. I lost my grandfather in 2001, whereby, my mother took all the responsibilities of our upbringing. As I am deaf (hearing impaired), my mother played a vital role throughout in getting me out of difficult times, as I was unable to manage myself. I gradually passed 12th Standard and was working at Akshar School in Kolkata", Chandni recounted.
She informed that after her father became MLA of Bilasipara (East), he resigned from the company and my mother became Director of the company. She has been staying in Assam, so my sister and brother takes care of her, Chandni added.
She said that due to sudden outbreak of Corona Virus in March this year, she had to move to Assam in the month of May, where she got to unite with her father in this lockdown.
"He spends a lot of time with me and enjoy fullest of life. Every day, early morning my father takes me to beautiful places of his constituency. He meets his people, and amid of it we enjoy a lot clicking with my camera. He takes me everywhere he goes and this provided me to learn the lifestyle of local people and their culture. Clicking pictures and drawing is my passion. I am struggling to do something better and improve in all spheres of my life. I consider myself an Independent girl and improving day by day with my effort. I love activities like indoor games, drive scooty and do social works for needy people. The most important is, am cherishing my family togetherness", Chandni narrated her feeling and experience.
Bijoy Kr Sharma
To read the further articles please get your copy of Eastern Panorama October issue @http://www.magzter.com/IN/Hill-Publications/Eastern-Panorama/News/ or mail to contact @easternpanorama.in