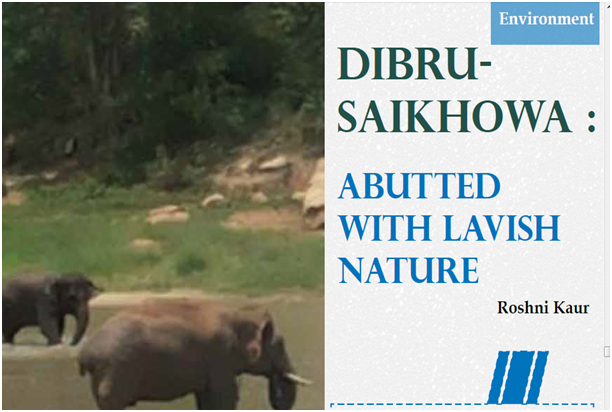 Dibru-Saikhowa is a National Park as well as a Biosphere Reserve situated in the south bank of the river Brahmaputra in Assam.

This National Park is situated 12 km north of

Tinsukia

in Assam

.

The forest type of Dibru-Saikhowa comprises semi-evergreen forests, deciduous forests, littoral and swamp forests and patches of wet evergreen forests.

Delimited by the mighty Brahmaputra and Lohit River, this is the largest salix swamp forest in the North-East India. It has

a tropical monsoon climate with a hot and wet summer, cool and usually dry winter.

Annual rainfall ranges from 2,300 to 3,800 mm. It is a haven for many endangered species and rich in fish diversity.
There are rare species in Dibru-Saikhowa National Park which are mostly unknown to the tourists. Let's start with the journey; what we can see is wild elephants, Asiatic buffalo, white-winged summer duck, capped Old World monkey, Black-breasted Parrotbill, and tigers. It's an uneven wet evergreen forest. It also measures eight species of terrestrial orchidaceous plant.
It conjointly consists of gorgeous birds named Pale-capped columbiform bird, Asian stork, white-tailed eagle, Indian pelecaniform seabird, and Indian spot-billed duck. The yachting there's sensible because it helps the holidaymaker to look at the scenic beauties of animals, birds, and mighty rivers. You get to check elephants walking, some stunning birds flying totally in different and marvellous colors. Dolphins' enjoying within the watercourse could be a beautiful scene not to be incomprehensible. You will love this place, if you're a nature freak person.
It's most far-famed for the rare white-winged wood ducks in addition to undomesticated horses. Dibru-Saikhowa could be a park in addition to a part reserve settled within the south bank of the watercourse Brahmaputra River within the extreme east of Assam state in the Republic of India.
It is among the foremost vivacious wildness on earth and is additionally distinct for its pristine scenic beauty. Settled within the cloudburst quotidian of Brahmaputra River, Dibru-Saikhowa provides a protection for several rare species of wildlife as well as domestic ones.
Fauna: 36 species of mammals have so far been recorded – Tiger, Elephant, Leopard, Jungle Cat, Bears, Small Indian Civet, Squirrels, Gangetic Dolphin, Slow Loris, Assamese Macague, Rhesus Macaque, Capped Langur, Hoolock Gibbon, Wild Pigs, Sambar, Barking Deer, Water Buffalo, Feral Horses etc.
Avifauna: It is an Identified Important Bird Area (IBA) having more than 382 species of Birds, some of which are Greater Adjutant Stork, Lesser Adjutant Stork, Greater Crested Grebe. Large Cormorant, Open bill Stork, Black necked Stork, Large Whistling Teal. Grey leg Goose, Grey-headed Fishing Eagle, Griffon Vulture, Osprey, Crested Serpent Eagle, Spot Billed Pelican, White Winged Wood Duck, Baer's Pochard, Greater Spotted Eagle, Pale Capped Pigeon, Great Pied Hornbill, Marsh Babbler, Jerdon's Babbler, Black Breasted Parrot bill, etc.
The Park is notable for the natural regeneration of Salix trees. That is extremely helpful to treat fever and inflammation. The tree is employed within the manufacture of baskets, fishing nets, furniture, and toys. Dyes extracted from the willow trees area unit are used for tanning of the leather.
How to Reach Dibru-Saikhowa National Park?
Roshni Kaur
To read the further articles please get your copy of Eastern Panorama November issue @http://www.magzter.com/IN/Hill-Publications/Eastern-Panorama/News/ or mail to contact @easternpanorama.in