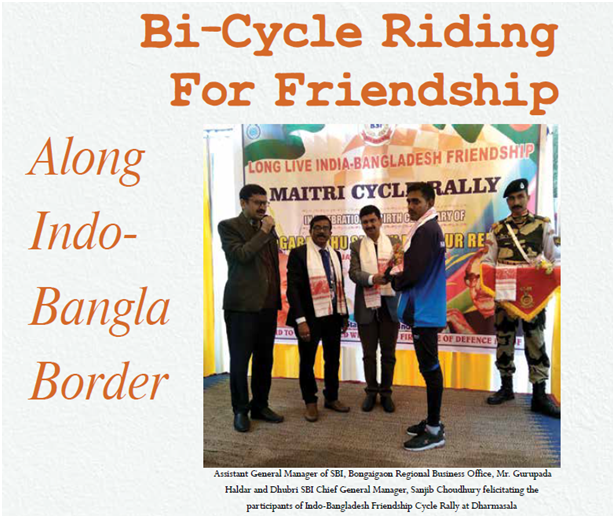 A Bi-Cycle riding of 4097 Kms along Indo-Bangla border to cement the friendship on the Centenary Birth Anniversary of Father of Bangladesh, Majibur Rahman is a joy to see the spirit of participants.
Bangladesh is celebrating the birth centenary of its founder father Sheikh Mujibur Rahman.
In view of the cordial relations prevailing between India and Bangladesh, Border Security Force guarding Indo-Bangladesh border, organised by - Maitri Cycle Rally in honour of Banga Bandhu Mujibur Rahman to show solidarity with the people of Bangladesh.
The Rally started on 10 January 2021 from Border out Post Silkor, 60 Bn BSF in Mizoram.13 riders had participated in this rally and they will cover the journey of 4097 Kms in 67 days which will pass through six states --- West Bengal, Assam, Tripura, Manipur, Meghalaya and Mizoram.
On 10 January 2021, the Maitri Rally was flagged off by former Indian Army Chief Shri Shankar Roy Choudhary to build a strong bond of friendship between BSF and BGB.
Maitri Cycle Rally entered Assam from Coochbehar sector to the area of BSF Dhubri Sector at Border out post Ram Rai Kuti, Ex-110 Bn BSF on 30 January 2021.
A warm welcome was given to the riders by Shri J C Nayak, Deputy Inspector General, Sector HQs BSF Dhubri along with other officers and men at LCS Sonahat in which officials of various agencies like Export Association, LCS participated enthusiastically.
The Rally moved through AOR of 110 Bn BSF and thereafter was given rousing welcome by Commandant 67 Bn BSF. Then the rally reached at BSF Water Wing, Dhubri Complex where DIG BSF, DC Dhubri, Commandant 41 Bn BSF, SP Dhubri, OC Water Wing BSF and other officials gave a grand reception to the cyclist.
The villagers all along the border cheered the party. The Cyclist then marched towards South Salamara district covering Brahmaputra River bed where they were received by Inspector General, BSF, Guwahati.
The BGB officials also cheered the party by joining the BSF troops at various places. The Cycle rally would further cement the cordial relationship between two border guarding forces of both the Nations.
To read the further articles please get your copy of Eastern Panorama February issue @http://www.magzter.com/IN/Hill-Publications/Eastern-Panorama/News/ or mail to contact @easternpanorama.in