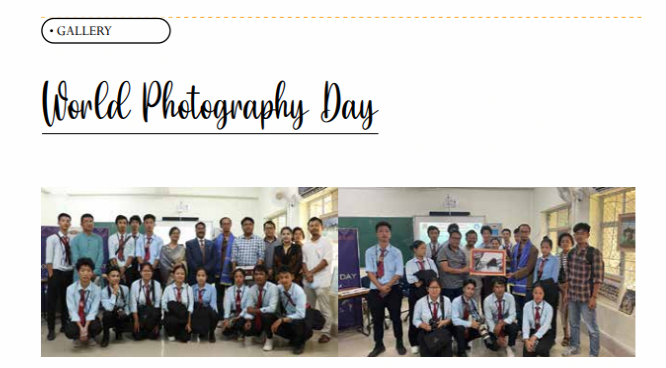 To commemorate the auspicious occasion of World Photography Day, 2022, the Directorate of Information and Public Relations, DIPR, Government of Arunachal Pradesh, in association with the Department of Mass Communication, Rajiv Gandhi University, organized a-two-day extensive International Photo Exhibition on the 19 and 20 of August 2022 to creatively appreciate the knack and implication of Photography as an art of storytelling. The event was attended by various dignitaries including Prof Saket Kushwaha, Vice Chancellor, RGU, as Chief Guest and Mr. Onyok Pertin, Director, DIPR, Itanagar, along with faculty members and student participants from the Department of Mass Communication, Saint Claret College Ziro (SCCZ), escorted by Assistant Professors- Ms. Sonam Sultana Shah (HoD) and Mr. Donye Natung, amidst other high officials from the IPR department, the media fraternity, artists and people from various walks of life graced the occasion whilst celebrating the important day.
The photography exhibition to observe the World Photography Day, 2022 was organized on the theme "A Walk into a Fading Heritage", by displaying the photographs of Donindra Yengkhom, who has travelled across hundreds of villages in nook and corner of Northeast region and done a commendable ethnographical photography on various tribal culture and heritage which according to him is fast fading. The exhibition was organized in two phases which was divided into two components. The first session of the exhibition was being observed in Cygnett Trends Inn, Itanagar, where addressing the gathering, Mr. Onyok Pertin, the Director of the IPR department, Itanagar- stressed on the significance of the field of photography and of taking photographs as a loom and approach of preserving and documenting one's cultural heritage as well as promoting the state's rich traditions, values, and rituals in a visual manner.
The Chief Guest of the day, Prof Saket Kushwaha, Vice Chancellor, RGU, put on record that Photographs doles out as a gateway which can thereby serve as a time machine to travel down the past. He further elaborated the meaning of 'fading heritage' citing examples of how the traditional dresses of different tribes of Arunachal Pradesh have diluted with contemporary designs and modern works of art with the passing of time. Furthermore, while addressing the gathering he advised the students to have contingent plans in their pockets until the end of time, as life is full of adversities. He added, "Those students who can do this, will survive and thrive, based upon Darwin's theory of 'Survival of the fittest' which adheres to every single being, in all life situations".
To read the further articles please get your copy of Eastern Panorama September issue or mail to contact.easternpanorama@gmail.com