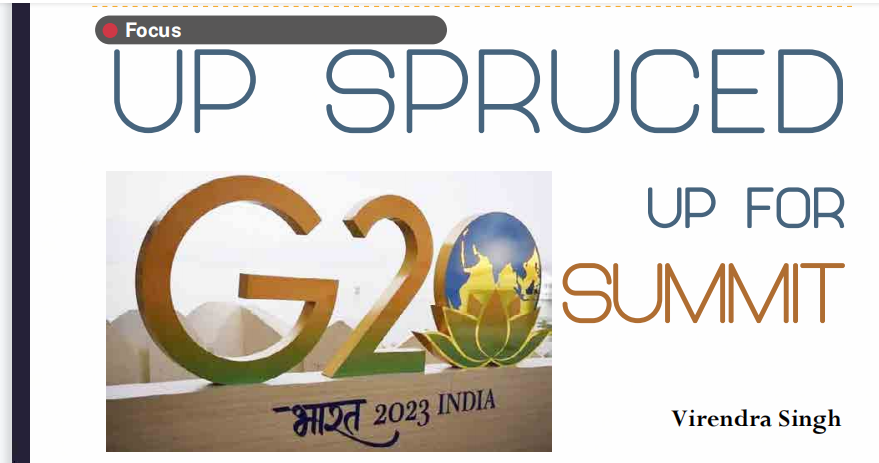 Uttar Pradesh is all set to get the benefit of G20 Summit, going to be held in February. Brand UP is the theme to showcase the sate. In a meeting to review preparations for hosting G20 events over the next one-year, Chief Minister Yogi Adityanath said, that the event should be used as a platform to introduce 'Brand UP' to the world.
The local cultures of the four cities which will be hosting events - Varanasi, Lucknow, Agra and Greater Noida, should become their theme. For instance, Awadh culture would become the theme for Lucknow, Braj culture for Agra, and Rangotsav and Ganga culture for Varanasi. The CM said that the pictures depicting the state's culture should be displayed on walls along the tour route for the guests in all four cities, focusing on India's Yoga tradition which can be displayed through different postures of the Surya Namaskar.
"Arrangements should be made according to the standard of security of foreign visitors. Necessary arrangements should be made regarding medical emergencies, traffic etc. The guests should be introduced to the diverse food cuisines available in UP", the CM said.
Focusing on sprucing the four cities ahead of the meetings, the CM said that they should all have attractive lighting at heritage sites. To be able to host G20 summits in the state is a historic opportunity. To make it unforgettable and unparalleled, a G20 Park should be established in Lucknow, he said.
The CM directed the home department to make arrangements for security for all delegates. As part of the strategy, a liaison officer should be deployed with each delegate.
*Who are the G20 Members?*
On the number of its members, its name is termed as the G-20 i.e. the group of twenties. It is worth mentioning that G20 members represent around 85% of global GDP, over 75% of global trade, and two-thirds of the world's population.
G-20 Members includes Argentina, Australia, Brazil, Canada, China, France, Germany, India, Indonesia, Italy, Japan, Mexico, Republic of Korea, Russia, South Africa, Saudi Arabia, United States of America, United Kingdom, European Union and Turkey.
As dignitaries from some of the key countries are expected to attend the events, Chief Minister Yogi Adityanath has clearly instructed the officials to ensure that there is no lack of hospitality during the guests' stay, an official said.
To read the further articles please get your copy of Eastern Panorama February issue or mail to contact.easternpanorama@gmail.com