Polluted Kopili's Dark Shadows Over Cachar Paper
The only PSU of Barrack Valley that is dependent on the mines of Jaintia Hills which had been directly responsible for the death of many rivers in the region.A first-hand account of the direct co-relation of the ensuring Ban by National Green tribunal and the Cachar Paper Mill.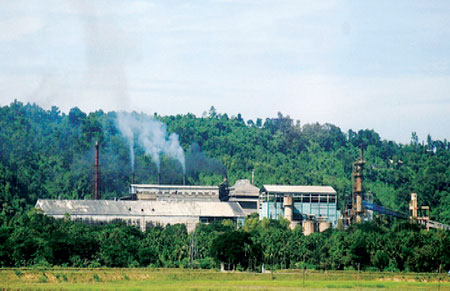 It may sound incredible, but is true. Pollution of the far away Kopili river has cast particulearly dark shadows over Cachar Paper Mill at Panchgram in Barak Valley. The only public sector undertaking in the south Assam established in 1988, has an annual capacity of producing 1 lakh metric ton of writing and printing paper, providing direct and indirect employment to hundreds of people and contributing towards the economy of the region.
Ironically the Kopili river originating in the Meghalaya plateau and flowing through the Karbi Anglong, Dima Hasao, Kamrup and Nagaon districts has been severely affected by unscientific coal mining in its upper reaches in Meghalaya leading to acidification of the river which has, in turn, left a part of the river's course biologically dead, making the water unfit for human consumption and leading to frequent outages at the Kopili Hydro Electric Project dams. Besides, several other streams and rivers have also been polluted. Significantly, the river is the source of drinking water in the lower reaches of Dima Hasao and other districts.
According to the state,it is 3.4 million m.t while the owners of mines claim it to be 9 million m.t
In view of the seriousness of the problem, All Dimasa Students' Union filed a petition before the National Green Tribunal(NGT) against the evil effects of rat-hole mining. NGT headed by Swatanter Kumar and Ranjan Chatterjee, consequently issued an order dated May 19, 2014, that directed the state of Meghalaya to ensure that the unscientific and illegal mining is stopped forthwith throughout the state and any illegal transportation of coal suspended until further notice. After thorough examination and on the spot verification, the Tribunal found serious air, water and environmental pollution due to unregulated and indiscriminate mining. Streams and underground water have been severely contaminated, jeopardizing environment and human health.
From Jyoti Lal Chowdhury
To read the full text online subscribe to the magazine
OR
Get the copy of the magazine for details contact at email:This email address is being protected from spambots. You need JavaScript enabled to view it.