National green tribunal
steps over vague policies
Sumar Sing Sawian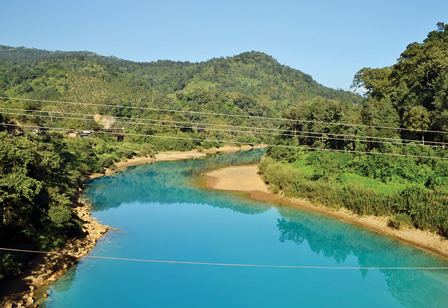 The state government is now in a quandary, as how to wriggle out, over the total ban of haphazard and wanton mining of coal in the state, which was imposed by the National Green Tribunal since April 17 in the year 2014. Because of the indifferent and callous attitude of the government, which had allowed for so long the primitive method of coal mining, the government has to now to bite the dust. Since the inception of Meghalaya, forty years ago, the state is now facing an annual revenue loss of rupees six hundred crores. The government had allowed the coal barons to rule the roost, at the cost of environmental degradation, which can never be recuperated overnight.
The financial wizards of the state, are now in a fix and have to possibly satisfy themselves in a shoe-string budget. It is indeed a lesson to be learnt in a hard way by the government, in taking for granted of the coal resource and also other minerals such as limestone, which cannot be taken for a ride. In fact the state government had prepared a policy on mining of minerals since the year 2012, but strangely enough, this policy had been kept in cold storage, less it offend the coal barons, who have been given a free hand in the exploitation of the miners, without any reserves.
The absence of clear cut policies and weak laws in vital matters in Meghalaya, such as mining of integrals, including encroaching into forest lands, thus bringing about extensive damage to the environment and ecology and illegal construction of high rise buildings have brought about the stepping of the National Green Tribunal (NGT), which has virtually taken over the powers and functions of the state government which it have failed to tackle in an effective manner.
The National Green Tribunal has however come about with an interim relief, directing all coal miners to complete payment of royalty of extracted and declared coal that has been mined, within a specified period of 14 days, while the ban on mining would not be lifted. This was decided in a hearing held on January 29. Justice U.D. Salvi had given a strict order, that the Directorate of Mineral Resources department, issue the challan for the coal assessed, for the purpose of transportation. This however would be a relief to the government, as the revenue generated from the extracted coal amounts to rupees 77 crore, out of the estimated amount of rupees 300 crores. The Tribunal had also insisted that all weighbridges should be operative, in order to facilitate the smooth transportation of the extracted coal.
To read the full text online subscribe to the magazine
OR
Get the copy of the magazine for details contact at email:This email address is being protected from spambots. You need JavaScript enabled to view it.