Energizing Northeast Conference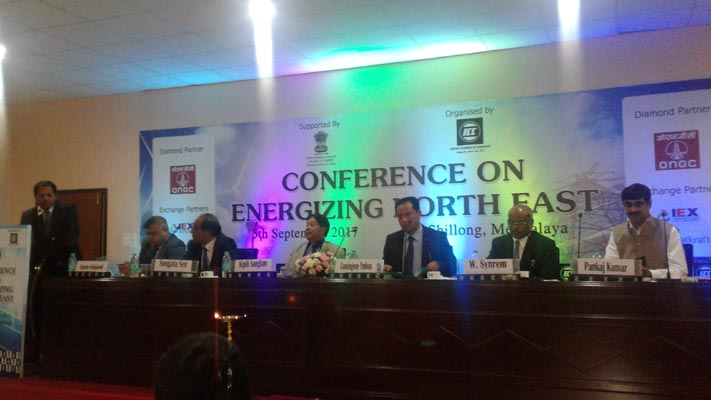 The Indian Chambers of commerce (ICC) organised a conference on "energizing North East" in Shillong to share an ideas of producing its own energy. The conference which was held at the State Convention Centre, Shillong was attended by both Minister of Power from Meghalaya and Nagaland Mr. Comingone Ymbon and Mr. Kipili Sanngtam in the presence of Mr.Pankaj Kumar the Secretary Bureau of Energy Efficiency of the Government of India.
With the theme 'Power for all': Availability, Accesssibility and Affordability in the NE Region, the conference was graced by other eminent person from the energy department like Mr.Sougata Sen GM ONGC Tripura Asset, Mr. D. S. Yadav Executive Director, Power Grid Corporation of India Ltd., Mr. W. Synrem Economic Advisor, NEC and many other more.
Speaking at the conference Mr.Pankaj Kumar said that "there is sufficient of energy in our country produced by all sources but the main problem is providing the energy to each and every home." The reason is because there is weak mechanism in transporting the energy. While many of the delegates mat not agree with him as one unanimous clearly said that "I think the central government have a fix policy by giving northeast step-motherly treatment", perhaps they want us to only buy energy from them.
The second half session begin with a theme "Renewable Energy; Hydro power Energy Efficiency and Associated Infrastructure in which experts from various Energy department shared out their ideas on sustaining the above theme. Those resource people were Mr. Yeptho DGM, Indian Renewable Energy Development Agency Ltd, Dr. Atanu Banerjee Assistant professor NIIT, Meghalaya, Mr Tapan Mishra VP Suzlon Energy Ltd. Mr. Dilip Sarma Sr. Consultant NETC and Ms. Arneet Kaur Originator, Statkraft Market Private Ltd.
There is a massive thrust to expedite projects in the North East to overcome power shortages and increase prosperity. Investment of £980 million has been earmarked for upgrading power systems in the North Eastern States. The panellist during the conference has urged both Government of India and NEC to provide more funds to Northeast region in order to make more micro power project in the region. Tripura and Sikkim are the only states that are self sufficient and are capable in energizing them self while the rest need to buy energy from outside northeast.
The difficulties on land acquisition and skill man power were the main topic discussed during the Question and answers session. The panellist also urged the government officials to encourage both the public and government to implement solar energy in their rooftop as to be self sufficient. Meanwhile around 1700 plus 150 youth will be trained by the energy department. The conference also emphasizes on using renewable resources for clean and sustainable environment such as solar, wind and hydro power. Northeast states being blessed with abundant and tropical environment are capable of producing their own energy sources.