Meghalaya yet to be Developed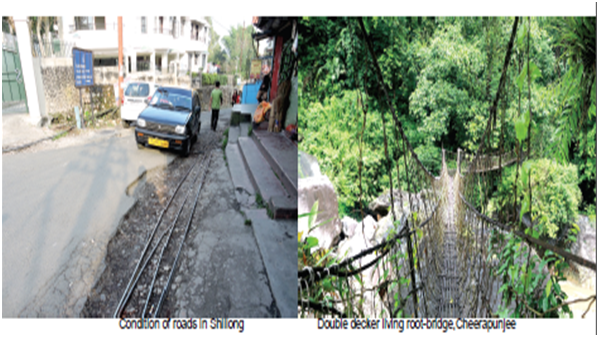 The concept and round development is yet to be developed in Meghalaya, the land of Abode of Clouds, the promise land of empty promises. This year 2017, is the pre election year to the legislative assembly, in which the Congress led coalition Government has pronounced achievement in the development field, which to the naked eye, there is much more of a barren land than any fruits of achievements. The age of bullock carts has gone past, replaced by faster modes of transport. But where are the roads to connect specially the agricultural lands with the market centres, to serve the economic cause, which is most essential. In most places, farmers have to trek with their head-loads of agricultural produce to the nearest road stoppage. Most of the agricultural produce are perishable and it becomes a nightmare for the poor farmers to make both ends meet. Transportation has therefore become a big problem for the producers of food, which should have been given a priority.
The State Government has however claimed, that development of road infrastructure and providing village connectivity, is one of the main thrust areas, under which 110 crore rupees have been sanctioned this year. While in the Garo Hills, along national highway 62, a number of wooden bridges have been washed away, because of heavy rains flooding the Simsang river. About 600 villages are affected, as communications have been snapped. For all these years, why wooden bridges are not replaced by cement bridges. So this is the plight of road communication. In many of the villages, people have to come out for "Self – help" road repair and construction.
People in Mairang who are disgusted with the negative attitude of the state government, in the negligence of roads, have taken upon themselves under the banner of the Hynniewtrep Youth Council, to repair a six kilometre road, connecting Nonglyput and Laitarted, covering nine villages. In a mark of protest the people of these villages have also decided to boycott the forthcoming by-elections to the State Legislative Assembly.
Regarding connectivity, Government has also loud talk of air services in the state to include Baljek in Garo Hills and Shillong – Umroi. Yet Baljek has remained non-functional since its inauguration. Shillong Umroi which came into being three decades back has been badly neglected, but for the intervention of the judiciary, the Shillong Meghalaya High Court, has now started working to complete the extension works of the airport.
To read the further article please get your copy of Eastern Panorama March issue @http://www.magzter.com/IN/Hill-Publications/Eastern-Panorama/News/ or mail to contact @easternpanorama.in