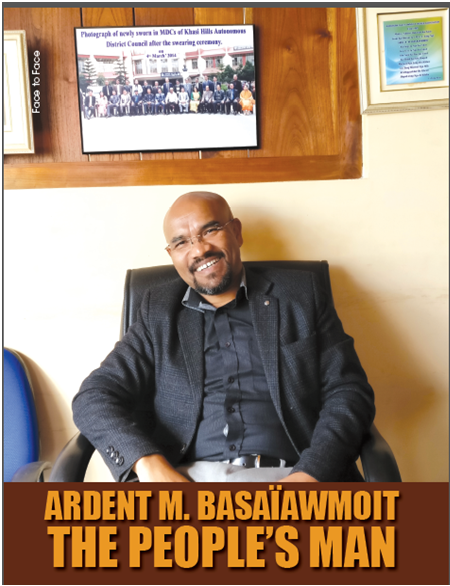 Interview dated 20th December The Hill State Peoples Democratic Party(HSPDP) is perhaps the last of the surviving regional parties of the state of Meghalaya and that of North East India. The Assam Gana Parishad (AGP), which is a regional party in the state of Assam was given a lifeline in the concluded Assam election of 2017 where the national party Bharatiya Janta Party (BJP) had an alliance with it. However the HSPDP seems to be going alone in the state of Meghalaya as it is vehemently opposed to having any alliance with either the Indian National Congress (INC) or the BJP. The INC has not ruled out any post poll alliance with the HSPDP. The stakes for HSPDP is higher than many of the other parties contesting the Meghalaya Legislative Assembly Elections simply because last time round in 2012 they could garner only 4 seats. With the passing of the stalwart in H.S. Lyngdoh the responsibility now lies with Mr Ardent Miller Basaiawmoit, the new chief whip of the party. Our Editor, Harsh Jhunjhunwala met with Bah Ardent to discuss the oncoming elections and a little more. Here are the excerpts from the interview.
What is the vision of HSPDP?
You see as a party we have a vision for the state and for a better future for the indigenous people of the state and that is what we stand for.
Politically your presence is not in the entire state of Meghalaya? It is limited to Khasi Hills and somewhat in Jaintia Hills. How do you think that you can make the vision successful for all round development of the indigenous peoples?
I think you have raised a very pertinent question. Our presence is felt mostly in Khasi Hills region. Though we have a vision for the State and Khasi Jaintia region in particular we understand that we will not get the opportunity to realize our dream and to ensure that our vision is taking its complete form we forge an alliance with UDP, another regional Party in-order to fulfill the aspiration of the people and to make our dream come true. And with this alliance we will be able to be in the government and we will be able to take up issues that concern the indigenous people of the state.
Sir will both UDP and HSPDP be fighting in 35 seats approximately?
No in-fact all the 36 constituencies in Khasi and Jaintia Hills and more seats in Garo Hills will be fought by the UDP. So the total number of seats will reach to 40 numbers for the UDP
That's still not 60?
I think it will be if you combine with HSPDP.
So you see a hung assembly?
Yeah as of now we cannot rule it out. But it depends on the mandate of the people.
HSPDP has been one of the primary parties to get the statehood of Meghalaya. It was there for the Hill State movement. There is a demand for separate Garo Hills State? Are you indirectly supporting that demand?
I think we are in the same line as far as separate states for Garo and Khasi are concerned. There was a move by late Purno A Sangma for a Garoland. And here also there was a move. In fact, it is a continuous process where we are also keeping that issue alive for a separate Khasi Jaintia State for the Khasis and Jaintias.
Hypothetically speaking say there is a hung Assembly? You need to align with NPP? Who then will be the Chief Minister?
As of now our concentration is not on the chief minister post but our concentration is to get the maximum number of seats to form the government so that we can have a strong government, a stable government. And for us leadership is not an issue but issues that matter most. We will discuss that issue only after the elections.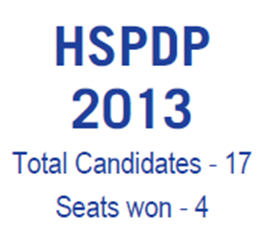 Sir you have talked about issues. The present Congress government has lost many sitting MLA's who will not be contesting the elections. You had said earlier that the scenario will change. What you think will actually happen?
I think it is for all of us to see that the Congress party is in shambles and no one can deny it.We also we cannot predict which type of government will come in 2018.But we are sure tha it will be a non-Congress and a non-BJP government. That is why we are forging this alliance to form a government of regional parties.
Do you think the people of Meghalaya trusts BJP?
I think by the present situation it is still a long way for the BJP to make inroads in the state of Meghalaya. Especially in the tribal dominated areas with all this kind of issues and actions against the minorities, Christian minorities recently in Madhya Pradesh. All these kind of atrocities towards these minorities I think will have a very negative impact for the BJP.
They say there is a wave of Prime Minister Modi and there are only four Congress ruled States left in India?
You see politics in Meghalaya is different. Politics of Meghalaya cannot be compared with that of Assam or some another state. It has a different dimension all together.
When you say politics of Meghalaya is different you mean it is more Person Centric than Party centric?
That's true.
So in HSPDP when you think of the party earlier it was (L) Bah Hoping Stone Lyngdoh. Now it's Bah Ardent. Who else? The general people do not get to hear of the second level the third level or leadership. They have not heard of them in the media. Why is it so?
No I think you are wrong to say that they are not heard. People know about the Vice President of the party, they know not only the MLA's but other office bearers of the party. It depends how you run the organization. We are running the Organization in a collective manner where every member is given a chance to raise their concern and are getting a platform to air their views. So it's not only one individual.
Harsh Jhunjhunwala
To read the further article please get your copy of Eastern Panorama March issue @http://www.magzter.com/IN/Hill-Publications/Eastern-Panorama/News/ or mail to contact @easternpanorama.in