The BJP and it's electoral ally tribal based Indigenous Peoples Front of Tripura (IPFT) has scripted a history by eroding 25 yrs old Left Front from the power with a humiliating defeat in the assembly election. Except CPI-M none of it's front partner Forward Bloc, RSP and CPI could be able to win even a single seat and Left Front end up at 16, which was 51 in last assembly. The BJP alone could secure the victory in 35 seats including 10 tribal reserved seats of 59 while IPFT won 8 of the 9 seats they contested. The tribal base considered to be the foundation of CPI-M in Tripura was uprooted by two years old BJP led alliance by winning the heart of tribal people initiating a strategic agenda.
The BJP had emerged as a formidable force within only two and half years. Now, there were i n d i c a t i o n s that party state President Biplab Kumar Deb who led the BJP to storm into power in an intensely fought poll battle would be the next Chief Minister of Tripura. The importance of BJP's emergence in a traditionally bi-polar politics of the state squeezing out Congress out of scene could very well be gauged from the fact that in 2013 it had only 1.5 percent vote in its kitty. The BJP secured 43 percent and it's ally IPFT secured 7.5 percent and CPM got 42.6 percent votes. The Congress becomes further weaker by securing 1.8 percent and Trinamool Congress with 0.03 percent of votes.
The Tripura verdict not only made the Communists further more irrelevant in the national politics as the CPM now holds power only in uncertain Kerala but also posed a serious question of its survival in the state. This is for the first time the tribal voters –one of the most important components of the state electorate rejected the CPM. This is an extremely significant development for the simple fact that since 1950's the CPM's traditional base were always the tribal areas from where it rose to power and ruled the state since 1978 barring five years interregnum of 1988-93.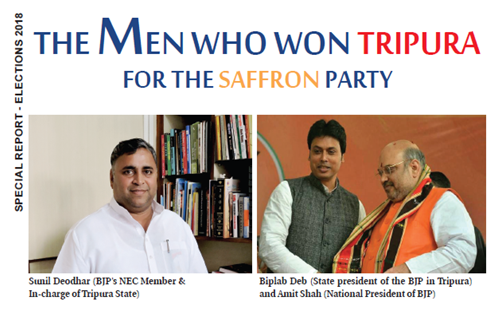 Biswendu Bhattacharjee
To read the further article please get your copy of Eastern Panorama March issue @http://www.magzter.com/IN/Hill-Publications/Eastern-Panorama/News/ or mail to contact @easternpanorama.in