There is no gainsaying that one of the most intractable problems having a longterm negative impact on the life of the people of Assam is the suspected foreigners from Bangladesh illegally living in the land-deficient State. Quite naturally, the local people were very much concerned over the large presence of illegal immigrants. After all, should the influx from across the border continues, it will not only turn the Assamese people into a minority in their own land but also pose a serious threat to their sociocultural life.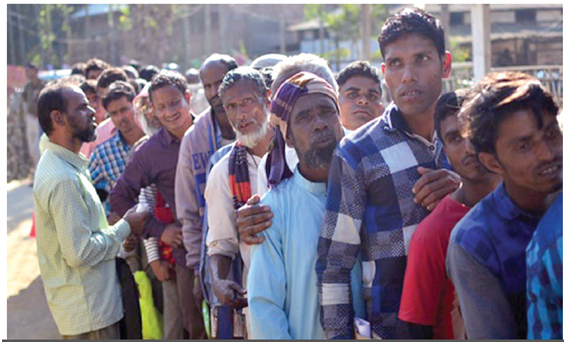 The vexed foreigners issue is not a new development for Assam. Candidly speaking, illegal infiltration continued unabated in Assam, in particular post independence of the country, largely thanks to the failure of the successive governments in the State, though save for the then Bimala Prashad-led dispensation which had at that time been highlyextolled for courageously driving out around one and a half lakh illegal Pakistanis from the State, which they say was willful as part of their strategy to keep them permanently unresolved to score one or two political points over their rivals, if and when necessary.
However, given the farreaching consequences the large-scale infiltration of illegal immigrants from Bangladesh that may have on the people of Assam in the event of the failure of those at the helm of affairs to tackle this age-old vexed problem, an imperative need for the democratic exercise of updating the National Register of citizens (NRC), 1951 was greatly felt and accordingly, a pilot project involving the NRC was launched in Barpeta road way back in 2005. The objective of updating and revising this stupendous work was identifying and enlisting those Indians whether Hindus or Muslims who have entered Assam before 25th March, 1971 in the NRC and striking off the names of all those non-Indians from the document being updated under the supervision of the Supreme court.
It is to be conceded by one and all that updating an errorfree NRC after careful verification of millions of documents of 3.29 crore applicants in Assam who are anxious to get enrolled their names in the updated NRC, is a time-consuming and Herculean job, yet the NRC coordinator has been trying utmost to ensure that an-error-free final draft of the NRC is published on the latest revised deadline of December 31, 2018. But, inspite of the concerned authority having been very circumspect, of late, a large number of declared foreigners have reportedly been appeared in the NRC. Surprisingly though it may apparently seem, the impression to this effect is essentially solidified following the inclusion of the name of one declared foreigner, Md Ali Ahmed from Lahorighat in Morigaon district in the first draft of the revised version of the NRC published on the midnight of December 31 last year, a development that has triggered a lot of excitement across the State.
Dwaipayan Dasgupta
To read the further article please get your copy of Eastern Panorama March issue @http://www.magzter.com/IN/Hill-Publications/Eastern-Panorama/News/ or mail to contact @easternpanorama.in