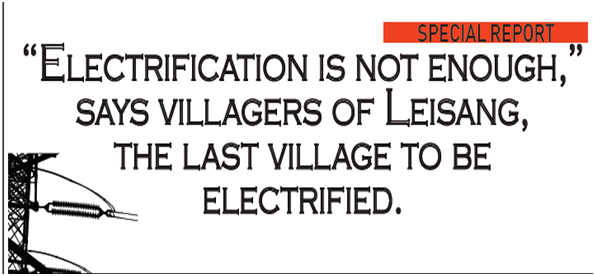 For Leisang village in remote Kangpokpi district of Manipur, this tweet opened the floodgate of media attention to their extreme backwardness, deprivation, and difficult lives. For the last 46 years, they have literally lived in darkness, without connectivity, without water supply, without access to quality healthcare. For the children of Leisang, if it were not for the private schools in the neighboring villages, the right to education would have had no meaning. Mid Day Meal is an alien concept with the only accessible government primary school some 3kms away by foot and for the sick and ailing, the only Primary Health Centre is at Waichung, located 8kms away. On 25th April of this year, Leisang came under the national power grid and according to Prime Minister Modi's Government, it became the last Indian village to be electrified under the Deendayal Upadhyaya Gram Jyoti Yojana.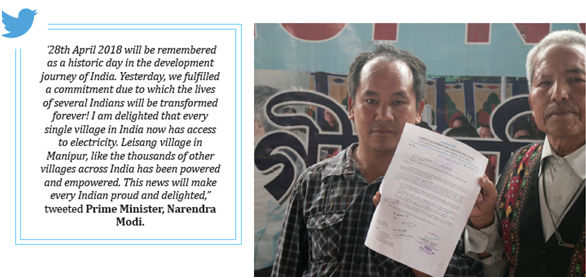 For the Prime Minister, electrification of Leisang meant his government had successfully electrified all of the 18,452 census villages of India, a promise he had made to the nation in his 2015 Independence Day Speech.
While there are many skeptics, questioning the authenticity of the government's claim of electrifying all of the villages in India, there is no doubt that one of the long cherished dreams of the villagers of Leisang is finally realized.
With light coming into their lives, they aren't only happy but are more hopeful that their lives will soon transform for the better given the fact that both the State as well as the Centre governments are aware of their existence now.
"Our village was established in 1972 as Kotlen. In 1995 when it was decided by the Kotlen chief that the village should shift down from the hilltop, a few of us led by my elder brother, Jangkhomang Haokip, decided to stay put. We sought permission from the Kotlen chief and made customary payment in cash and kind and established Leisang. Subsequently, Leisang was gazetted and recognized as a census village in 2002. Since 1972, we've seen no development in the village. We've been living a very difficult life. From the state highway (Imphal-Tamenglong or IT road), the uphill approach road to Leisang is only a footpath. Our village is yet to even have a health center or a school. Even potable water is a big problem. But with the Electrification of our Village in the beginning of 2018, we are hopeful that further change will come around. We're so very happy at this development," said Doungul Nehkhokam Kuki (Haokip), the younger brother of the late chief, Jangkhomang Haokip who established the village and barely manage to survive. There are no basic facilities in the village and not a single person from the village is doing government service. Now that electricity has illuminated our village, we would earnestly like to request our government to connect us with the rest of the nation by constructing a motor-able inter-village road. As of now, Leisang is only connected with the outside world by an uphill 2 km long footpath.'
Sunzu Bachaspatimayum
To read the further article please get your copy of Eastern Panorama March issue @http://www.magzter.com/IN/Hill-Publications/Eastern-Panorama/News/ or mail to contact @easternpanorama.in