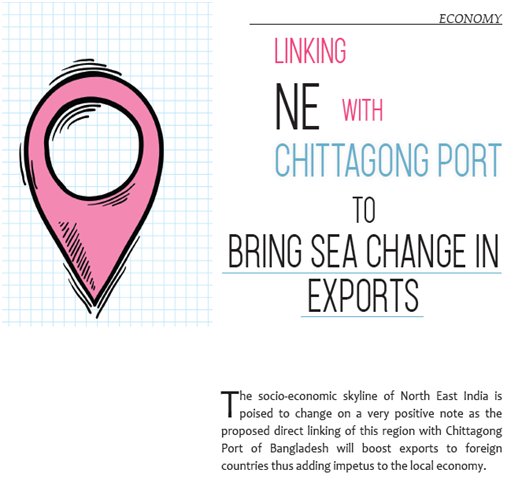 The Central Government has just spelled out a revolutionary plan aiming at transforming the much needed revamping of overall economy of the North Eastern region as a whole. As the Chinese investments have also been tagged on to the new roadmap of growth, the overall economies of the Seven States of NE India will get tremendous boost.
On being connected with the Chittagong Port directly, the exporters and importers of NE States will get the scope of becoming a part of the vast international ocean trade. Currently, goods for export from NE India are taken to Mumbai and Chennai ports through Guwahati and Kolkata that consumes time and more expenses.
The Chittagong Port is much nearer to NE India compared to Mumbai or Chennai. The works in creating the infrastructure for this connectivity of Chittagong Port with Agartala are already on. The vast North East, endowed with massive raw materials, remained at the backbench of priority of the Central Government for decades together.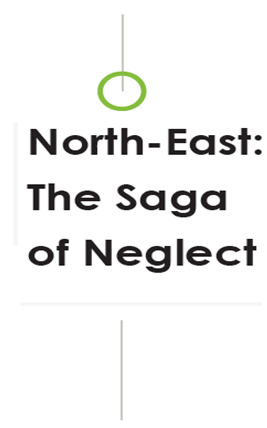 If we make a cursory glance at the theory of Stages of Economic Growth of WW Rostow, we find that the whole of North East took decades to switch over to the stage of "Pre-Conditions to Takeoff" from the stage of "Traditional Society". The Central Government never helped the region create "Pre-Conditions to Take-off" that includes, among others, external demand for raw materials, development of commercial agriculture and cash crops meant for export, introduction of technology and boost to individual social mobility.Though the era of Five Year planning began in 1951, the North Eastern part of India did not draw the attention of the Centre till 1970. However, no serious thrust was given for promotion of export.
It was only in 1971 that an Act of Parliament the Northeastern Council (NEC) was set up to help the region "Take-Off": Secondary or goods-producing sector expanding and ratio of Secondary vs. Primary Sectors in the economy shifting towards the Secondary Sector.
The seriousness of attitude of the Central Government is noticeable only from 1991 when India's Look East Policy (since renamed as Act East Policy) was announced. The introduction of "PM's Action Plan for NE" in 2000, allotment of Rs. 55 crore under the export development fund in 2005-07 and creation of the Northeast Cell within the Union Commerce Ministry were positive steps that boosted the exports.
Amlan Home Chowdhury
To read the further article please get your copy of Eastern Panorama March issue @http://www.magzter.com/IN/Hill-Publications/Eastern-Panorama/News/ or mail to contact @easternpanorama.in