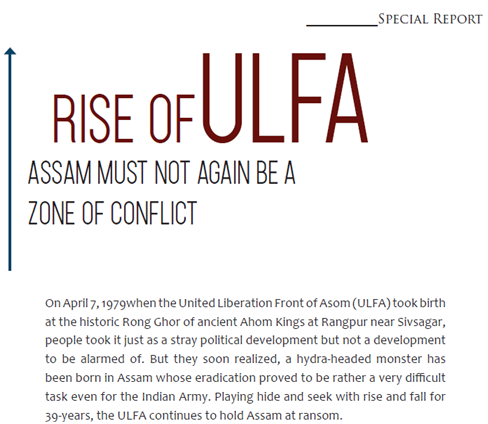 On April 7, 1979 when the United Liberation Front of Asom (ULFA) took birth at the historic Rong Ghor of ancient Ahom Kings at Rangpur near Sivsagar, people took it just as a stray political development not a development to be alarmed of.
But they soon realized, a hydra-headed monster has been born in Assam whose eradication proved to be rather a very difficult task even for the Indian Army. Playing hide and seek with rise and fall for 39-years, the ULFA continues to hold Assam at ransom.
The ULFA has suddenly risen after lying low for some time again minting news for the same wrong reasons for which it is known: killing innocent non-Asoms. The Assam Police has dubbed this as "Fresh lease of Life" to the outlawed ULFA.
Come 2018, this terror group proved a hydra-headed monster cannot be eliminated even if the main body of ULFA gets divided into two parts: ULFA- Anti-Talks faction led by Paresh Baruah and Pro-Talks faction commanded by Arabinda Rajkhowa.
Espousing the Assamese Sub-Nationalism within the Indian nation, the ULFA has tentacles spread all over Northeast India, Myanmar, Bhutan and Bangladesh.
Danger Lurks
Though the ULFA as a whole – two factions after splits – poses grave danger to peace and security of Assam, the main threat currently is coming from ULFA- Anti-Talks faction or ULFA – Independent. It has 200 well trained armed fighters and currently recruiting more youth to join its "Army". The split in ULFA along leadership lines took place in 2011.
The Assam Police currently is alarmed at the renewed recruitment drive and ongoing social media blitz of the ULFA-Anti Talk Faction. It has even created a Facebook Group styled as Xunjukto Mukti Bahini Asom. Obviously, the Group again wants to foment troubles. In other words, resort to violence.
The ULFA-ATF renamed itself as ULFA-Independent (ULFA-I). It is receiving continuous support from Pakistan-'s spying outfit, the Inter Services Intelligence. Earlier this year, the ULFA-I killed several non-Assamese people apparently to prove it has staged a comeback.
What is most intriguing, the fresh recruitment drive takes place at a time when a large number of the ULFA-Anti Talk Faction are either in jail following their surrender or have taken shelter outside India.
This proves "new leadership" might have emerged within the terror group. And whenever "new leadership" surfaces in any terror outfit, it resorts to violence to mark its strength. The rumour of Paresh Barua dying in an accident in China is already spreading. This mean a new leader might have emerged.
The Intelligence Wing of Assam Police has said ULFA-I have recently procured sophisticated seaponry and its guerillas are taking military training inside the jungles in Myanmar, Bangladesh and different other parts of the Northeast India.
The renewed activities of ULFA-I has created a major problem. It would virtually force ULFA-PTF, having 297 well-trained guerillas, to also swing into action as (otherwise) it would lose support of pro-Assamese Sub-Nationalism section of populace who justify violence to meet this end.
Would ULFA-Violence Again Slip Into 1980s Phase?
Somehow or the other, Assam had been dribbling relatively peacefully. But the things suddenly seem to have changed after the NRC-issue came on the surface. It gave a wonderful opportunity to the armed separatists with Pakistan's ISI pulling the strings from Islamabad and anti-India quarters in China's Beijing.
With the ULFA now split into two and the NRC turning into a fully blown up controversy, the armed militant really can have a field day in Assam. Besides, the group fights of the two factions of ULFA also cannot be ruled out. We are seeing right now, ULFA-I is more in the news. Can ULFA-Pro Talk Faction tolerate it for long?
For all practical purposes, the state may again slip into the 1980s-turmoil. We know it takes very little time for a condition to deteriorate. Rampant unemployment in Assam would further create favourable ground for ULFA to re-surface with renewed vigor.
Amlan Home Chowdhury
To read the further article please get your copy of Eastern Panorama January issue @http://www.magzter.com/IN/Hill-Publications/Eastern-Panorama/News/ or mail to contact @easternpanorama.in