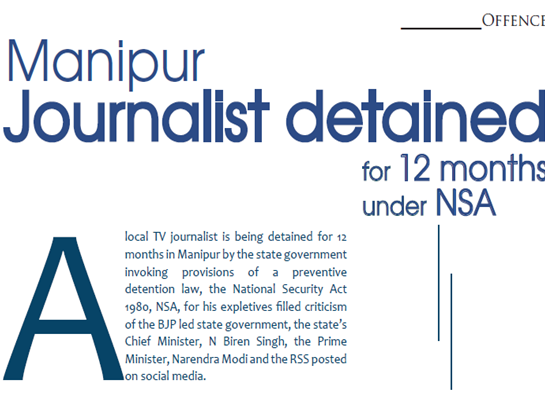 A local TV journalist is being detained for 12 months in Manipur by the state government invoking provisions of a preventive detention law, the National Security Act 1980, NSA, for his expletives filled criticism of the BJP led state government, the state's Chief Minister, N Biren Singh, the Prime Minister, Narendra Modi and the RSS posted on social media.
Considering, Kishorchandra Wangkhem's similar misadventure where he heaped sharp anti-BJP and anti-RSS criticism in a non-journalistic fashion, landing him in jail under Section 500/500 (2) of the IPC, for the first time in August this year and the fact that he dared the state government to apprehend him again, his arrest was not surprising at all.
Significantly in the earlier episode, the All Manipur Working Journalist's Union, AMWJU, negotiated his release with the state Chief Minister. Subsequently on 12 August, the Court of the Chief Judicial Magistrate, Imphal West released Kishorchandra on interim bail for medical ground after executing a PR bond of Rs 50,000/-.
This time around AMWJU refused to come to his rescue with the interim President of the
apex body of the working journalists of Manipur clarifying that Kishorchandra's outburst against the BJP which went to the extent of calling the state Chief Minister a puppet of the central government under Prime Minister Narendra Modi was in utter disregard of the resolution adopted by the AMWJU in August this year after his first arrest.
AMWJU's resolution clearly stated that "any person working in a media house of Manipur as journalist/non journalist must face on his/her own consequences of posting/uploading derogatory, defamatory, illegal, unconstitutional, etc. comment/video on social media that is not connected with the profession of journalism in whatsoever manner, and that AMWJU will not be responsible for it at all." The statement further stated that the union is "compelled to take this resolution as a few so-called journalists including Kishorchandra himself were blatantly misusing the social media by posting abusive and offensive comments against some people, political parties, organizations and their leaders in a very personal manner in the name of freedom of press and what not, that needed to be controlled and would create a lot of disturbances, if left unchecked.
'While it is a fact that Kishorchandra's comments are not related with his journalistic work and smacks of political agenda, his language abusive, crude, defamatory and unparliamentary. This cannot be interpreted as anti national or seditious and arresting him smacks of high-handedness as the offence, in the true sense, cannot be termed as cognizable,' said a retired IAS officer RK Nimai who turned a working journalist and is a member of AMWJU.
Kishorchandra was arrested on November 21 for his derogatory facebook video post where he sharply condemned the BJP-led state government and state Chief Minister N. Biren Singh for allegedly linking Jhansi Rani's role in the freedom movement of Manipur while addressing a function commemorating the role of Rani of Jhansi in the freedom struggle of India against the British.
This time he was detained under sections 294 and 500 of the IPC over and over the Section 124 A, which deals with sedition. Significantly, the Chief Judicial Magistrate before whom the arrested journalist was produced on November 25, released him on bail.
Ordering his release, the Magistrate ruled that "it does not appear to me as an act which is intended to create enmity between different groups of people community, sections etc. nor does it appear to be one which attempts to bring hatred, contempt, dissatisfaction against the government of India or of the state. It is mere expression of opinion against the prime minister and chief minister of Manipur which cannot be equated with an attack to invite people to violence against the government of India or Manipur to topple it".
Sunzu Bachaspatimayum
To read the further article please get your copy of Eastern Panorama January issue @http://www.magzter.com/IN/Hill-Publications/Eastern-Panorama/News/ or mail to contact @easternpanorama.in