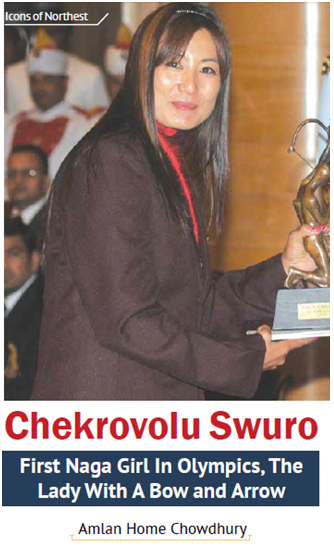 At 13 when she took up the bow and arrow in her hands in 1994, nobody could even guess she would become the poster-lady of Indian archery in the subsequent years. Besides, she would also kindle the flame of archery among the Indian women. Exactly 18 years later in 2012, Chekrovolu Swuro of Dzulhami hamlet of Phek district of Nagaland represented India in the London Olympics. She became the second person since 1948 to represent Nagaland in the Olympics.
Way back in 1948, Dr. T. Ao led a barefoot Indian football team to become the first Olympian from the Northeast. Shekrovolu again brought glory to Nagaland in particular and the Northeast as a whole after 71-years. For this, she merits a special mention.
Vive la Chekrovolu! India is proud of you. You have added a new dimension to the prestige of Nagaland: the ancient land of master archers. Today she serves the Nagaland Police. She has redefined the feminism in India.
As far as Nagaland is concerned, she is the first Naga woman to go to the Olympics. The Tata Archery Academy of Jharkhand, noticing her great potentiality as an archer, had absorbed Chekrovolu when she was 20.
She did not look back after that!
Born on November 21, 1982, Chekrovolu represented India in a large number of international completions in archery including the Asian Games of 2002 and 2006 in South Korea and Qatar respectively. She brought the silver medal for India in the World Archery Championship held in 2011 at Turin in Italy.
This Arjuna Award winner of 2013 had been representing India in almost all international archery competitions held in various parts of the world.
Chekrovolu's grand success shows that India really can create miracle in the international sports arena by developing talents in the Northeast. Each and every village in the Seven Sister's zone has athletic spirits. The only thing that the Central Government needs to do is to tap them and provide them the opportunity to show their mettles in the global arena.

Nicknamed as Anga, she made here international debut in archery completion in 1999. Chekrovolu is a right hander and her arrows are 29" long and her draw weight is 40 lbs.
For every great work, a person needs an inspiration. Our Chekrovolu drew it from her elder sister Vesuzolu Swuro. She grew up watching her elder sister taking training in archery. And the inspiration was worthwhile.
Though archery as a sports figure in Mahabharata and Ramayana, it could not gain much popularity in India. It, however, remains very popular in different parts of Asia, Europe, Latin America and USA. However, the success of archers like Chekrovolu offers a silver lining for the future of the ancient sport. It would inspire others to take up this game.
Amlan Home Chowdhury
To read the further articles please get your copy of Eastern Panorama July issue @http://www.magzter.com/IN/Hill-Publications/Eastern-Panorama/News/ or mail to contact @easternpanorama.in