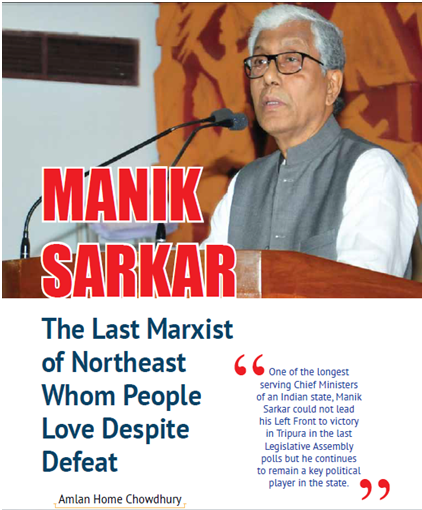 One of the longest serving Chief Ministers of an Indian state, Manik Sarkar could not lead his Left Front to victory in Tripura in the last Legislative Assembly polls but he continues to remain the key political player in the state.
Since the Marxism is practically finding itself an anachronism vis-à-vis globalization and corporatization, the CPI (M) failed in Tripura but it did not taint Sarkar as a mass leader. Manik-Da continues to remain the last word as far as the Left-politics in Tripura is concerned.
The reason behind this is his personal charisma and a spotless-unblemished political career. Sarkar, a Politburo Member of the CPI (Marxist), served as Chief Minister of Tripura for four times consecutively. This is no mean achievement for a political leader by any parameters.
Before we sketch his profile, it is worthwhile to note that during the last assembly polls, his affidavit revealed that he had no personal property and no house of his own. His only property, perhaps, is a very small house in Tripura that belonged to his great grandfather.
Sarkar used to donate his Chief Minister's salary to the CPI (M) and the party returned him Rs. 10,000 per month as subsistence allowance. Sarkar really is an exceptional politician. In other words, Sarkar has proved beyond bouts that all politicians are not made of same chemicals.
Incidentally, he does not have a car of his own. His wife also never used the official car of the Chief Minister to go to her work place. And Manik-Da mostly likes to eat Muri or puffed rice as his evening breakfast.
Yes! There really was such a Chief Minister in India, till very recently.
We know a large number of Chief Ministers in the country who are facing court cases related to creation of wealth inappropriate to their known sources of income. But not Sarkar! This amply proves a person howsoever advantageous by be his or her official position to mint money can remain unaffected by the lure of the lucre.
The magic of Sarkar's charisma can be gauged from the fact that during the last assembly polls, the Left Front might have suffered a defeat due to anti-incumbency factor but he could retain his seat comfortably.
Beginning his political career at the age of 19 by plunging into the student's movement in 1968, Sarkar joined the CPI (M) in 1972. He contested the assembly polls for the first time in 1981. It was a by-poll from Krishnanagar assembly seat. He won the poll.
Success and Failures of A Communist
Born in a middle-class family, Sarkar may not have come up to the expectation of news voters – the youngsters – by creating jobs or taking Tripura to a new height of growth but he succeeded in bridging the tribal-non-tribal gap. In the last assembly polls, the most decisive factor was the young voters, many of them first time voters.
To read the further articles please get your copy of Eastern Panorama July issue @http://www.magzter.com/IN/Hill-Publications/Eastern-Panorama/News/ or mail to contact @easternpanorama.in