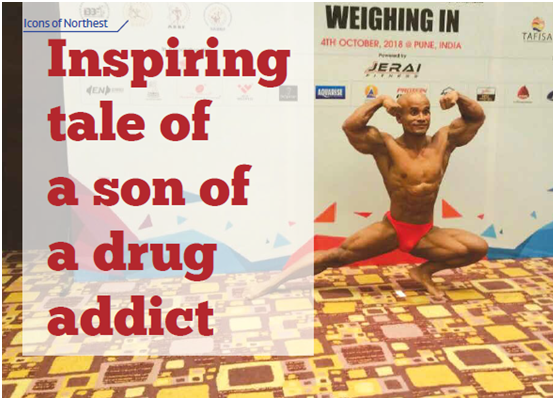 Can a son of a drug addict ever become the pride of a nation? In most cases, it would be a resounding 'No!' But then the story of Leishangthem Robert Meitei from Manipur is of a man of substance, grit and packed with enough muscles to inspire.
"Being a son of a drug addict, I was stigmatised and discriminated. Even my friends were prohibited to mingle with me. I took on this social attitude as a challenge to prove that even a son of a drug addict can be an achiever" revealed Robert who took to body building to fight frustration and depression. Recently, he bagged 5th position in the senior Mr. Asia 2018, held in Pune.
Right from birth, odds were heaped against Robert. Born to a heroin user at the notorious border town of Moreh in Manipur, infamous as a major transit point for heroine from Myanmar into India, Robert was brought up in a surrounding buzzing with the illicit drug trade, with Moreh Ward No. 3, where he is from, being the hub.
Like many drug addicts who were hooked onto the 'king of drug' as heroin was known then, Leishangthem Paka Meitei, Robert's father, succumbed to his heroin addiction and died of an overdose. This was the crush point in young Robert's life.
With his father gone, the family of six - mother and five siblings, all boys - were reeling in acute poverty. Fortunately, living adjacent to the international border gate no. 2, between Myanmar and India, offered earning opportunities. His mother, L. Thaba Leima and eldest brother worked as cross-border coolies, ferrying out Indian goods to Namphalong market (Myanmar) and bringing in cheap Chinese products from Myanmar into Moreh. This, at least, ensured the hearth feed the family and the young kids could go to school.
His father's death was a life-changing moment for Robert to the dangers of addiction. During this crucial phase of his life, Robert chanced to attend a motivational session with Arambam Bobby, the state's own former Mr. World, when he visited Moreh in the year 1998. Inspired by the Mr. World, Robert took up body building as a profession and never turned back.
Deprived of a functioning gym at Moreh or the resource to buy weight training equipment, Robert went around collecting discarded iron parts of trucks and jeeps like cranks and shafts and made them his body building equipment.
Body building regime entails regular intakes of supplements. Ashamed to bother his mother and brother, Robert in his spare free, after school and training, would work part-time as a coolie too. The money earned would then go in procuring supplements that would cost nearly Rs 5,000/- per kg. To further enrich his daily diet, Robert grew fruits in his backyard and reared chickens for his consumption.
Sunzu Bachaspatimayum
To read the further articles please get your copy of Eastern Panorama July issue @http://www.magzter.com/IN/Hill-Publications/Eastern-Panorama/News/ or mail to contact @easternpanorama.in