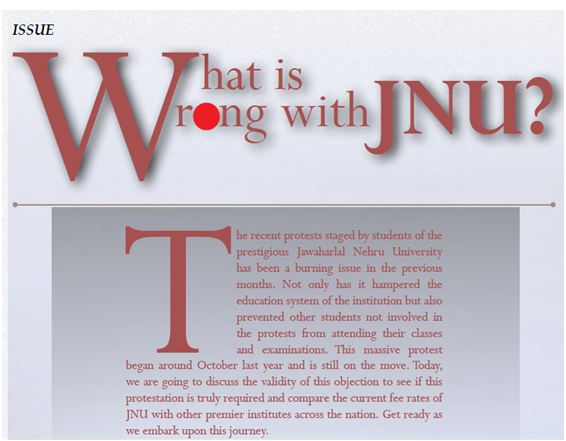 The institute has been a hotspot for student activists from the very beginning. Recently, after the hike in fee rates, these activists have taken in-charge of running the university. These 'students' have been seen locking doors and holding their professors' hostage for hours on end. They have even been seen defacing the buildings of the university and it is because of this turmoil the university administration had to post-pone various examination dates as well as registration dates for the new semester. They had to resort to creating an online registration website for the safety and well-being of the students and Behold over 5400 students registered online for the winter semester which is a clear indication that only a small percentage of students have an issue with the fee hike. So let us begin by examining the facts.
Previously, the hostel room rent for JNU was Rs 10/20 per month which has increased to Rs 300/600 per month. A new service charge of Rs 1,700 per month has been added —making monthly hostel fee up to Rs 2,000-2,300. Other charges, like establishment (Rs 2,200 per annum), mess (Rs 3,000 per month) and annual fees (Rs 300) remain the same. The hostel rates of other institutes like IIM Bombay and Delhi fall around 20,000 and 15,000 respectively. In IIM Indore, undergraduate students pay Rs 25,000 per annum/per head for triple occupancy, and a post-graduate student pays Rs 75,000 per annum. All of these institutes and colleges, despite charging much more than JNU, still subsidise accommodation substantially.
If we compare JNU's fee rates to other central government universities of its stature such as Delhi University, the tuition fees ranges from Rs 6,000 to Rs 40,000, Jamia Millia Islamia ranges from Rs 7,000 to Rs 10,000. In Aligarh Muslim University fee ranges from Rs 4,000 to Rs 9,000 and in Banaras Hindu University from Rs 2,500 to Rs 3,500.Chennai's Loyola College charges students in humanities and sciences stream Rs 20,000 per year while for engineering students, the annual fees are Rs 65,000. And even non-metro institutes charge much more than JNU.
JNU continues to remain the most subsidised university in the country with little to show for in terms of output. Scholarships are also provided to students: 3,080 students get Rs 5,000-Rs 8,000 per month; 1,375 students get up to Rs 8,00-Rs 5,000 per month, 431 students get Rs 31,000 to Rs 47,000 per month and so on. The misinformation about the inability of the students to pay up these increased charges has already been busted by the administration by revealing that out of 6,000 students who are residing in the hostels, 5,371 students receive financial assistance in the forms of fellowships and scholarships.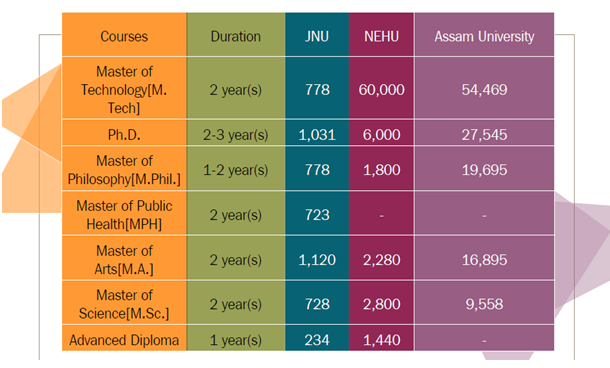 To read the further articles please get your copy of Eastern Panorama February issue @http://www.magzter.com/IN/Hill-Publications/Eastern-Panorama/News/ or mail to contact @easternpanorama.in