Meghalaya is no doubt one of the most attracting tourist destinations in India. Blessed with abundantly beautiful natural tourist sites, the state day by day is gaining momentum of enabling to attract both domestic and international tourist. Shillong being the state capital is definitely one of the most beautiful cities in India. Also being the 'Rock Capital of India' music will surely definitely go well with some red and local brew wine. Every year, Forever Young Sports Club (FYSC), organized 'Shillong Wine Festival' which is gaining popularity, with tourists flocking the picturesque capital city of Meghalaya, even Europe's wine connoisseurs salute the indigenous Khasi people for brewing the best homemade wine.
'Shillong Wine Festival' is based exclusively on local horticulture products such as passion fruits, bananas, pears, plums, pineapple, strawberries, gooseberries, jackfruit and ginger. The art of brewing the best wine has now become a source of fame and fortune for some of the home-made wine breweries. This festival is basically to display Shillong finest local brew wine.
Recently Meghalaya Chief Minister Conrad K Sangma assured the people of the state that the government is looking for ways to legalize wine making so that local citizens of the state can locally produced wine which will in turn help the state in generating employees and income as well. Ironically this decision of making wine making legal came just day after Deputy Chief Minister Prestone Tynsong said that the state government made a whooping amount of 6.5 crore in 4 days when wine store were allowed to open in some parts of the state. It may be mentioned here that there has been a demand to the state government to legalize wine making for the past 17 years. The department in its official statement also has invited all stakeholders to give their views and suggestions on the draft rule, which has been uploaded in the Meghalaya State Portal Website.
The question arises is how wine making is introduced to the people of Meghalaya. According to Micheal Syiem, the President of Meghalaya Association of Wine Makers (MMAW), Local wine brewers in Meghalaya owe it all to one Captain Harold Douglas Hunt, who in 1947 set up a small winery to produce wine from Sohiong, a local blackberry variant. Rachel Nongdhar, who is one of the descendants of Captain Harold Douglas Hunt said that their grandfathers passed the techniques of wine making to them as a family's hobby. Here are the excerpts from the 'Wine Makers' of the state with Eastern Panorama's correspondent Donboklang Wanniang:
Q. What is the demand of Local wine in the state?
President of the Meghalaya Association of Wine Makers (MMAW), Michael Syiem had said that though the demand of local wine by the local citizens of the state is not that high, yet the demand by state such as Goa, Mumbai and Himachal Pradesh can be considered as to why Meghalaya must take this advantage of making Local Mine Making Legal so that local wine brewer can export these local made wine to outside the state. If wine making is legalized it will go a long way to boost horticulture, employment opportunity to educated unemployed youths and also revenue to the state government.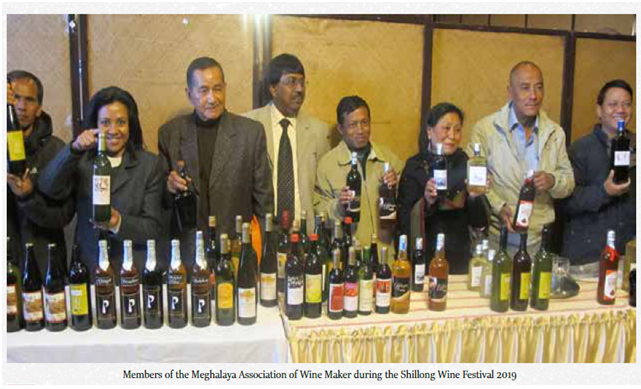 Q. How many local wine makers are there in the state?
Evawanda Laloo, who is more interested in 'Cucumber punch' said that the state has abundant wild indigenous edible fruits such as Sohphie, Sohiong, Sohbrap etc, most people preserved its wine or juice for medical purpose and this can be seen in every household especially, the Khasi Community, but at times the present generation have value-added their traditional recipes with a touch of alcohol to churn out exotic wines.
Q. How giving license to local wine makers will benefit the state in generating income?
Angel Marbaniang, who is fond of making 'Ginger Wine', pointed out that she usually make 1000 bottles of wine and each bottles cost between 350 to 800 Rupees and with every household in the state capable of brewing. I think the State Government can definitely gain enough income if wine making is regarded as cottage industry. Due to no recognition and legal methods of selling our product from the government, we usually sell or distribute our wines to close ones and among friends circle only.
Q. If local wine making is declared as 'Cottage Industry', how will the local population benefit from it?
According to Michael Syiem, if 'Wine Making' is recognized as 'Cottage Industry' around 100-150 people can be employed which will help the state government in curbing unemployment. We the local Wine Maker seek a little help and encouragement from the government, the state can come out with its own brandy brewer of beer making industry and this could be a blessing to the unemployed youths, the farmers and the tourists as well.
Q. Will there be any SOP, especially at the time like this when the state and country is fighting against COVID-19?
Donboklang Wanniang
To read the further articles please get your copy of Eastern Panorama June issue @http://www.magzter.com/IN/Hill-Publications/Eastern-Panorama/News/ or mail to contact @easternpanorama.in