Weavers of Sualkuchi The Spin in the Tale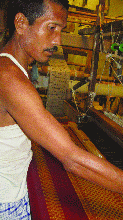 The approaching of Christmas in Meghalaya indicates that it is time for a class of skilled weavers in Assam's silk village Sualkuchi to move the shuttles of their looms faster. It is during this time of the year that these weavers of this textile hub, about 150km off Meghalaya's capital Shillong, get to display their weaving skill on specially designed looms to weave traditional Khasi female dresses with vibrant colours and motifs.
Sualkuchi, known for its centuries old tradition of weaving Assamese silk-products and having world recognition for its unique handloom products, is also successfully producing traditional Khasi silk textile for ages. The annual trade of the traditional Khasi dresses made of mulberry silk in this silk village now runs into several crores.
Hara Kumar Baishya, an entrepreneur living in Phulbari Pahar area near the River Police Station of Sualkuchi has seven handlooms at his home that produce, on an average, 200 pieces of Khasi women's attire in Mulberry silk, a month. For generations, this traditional weaver's family has been associated with the skill and today, on an average, he gets Rs 1,600/ for every piece of such silk products, he tells Eastern Panorama.
Add a comment
Read more...