Bringing ULFA to the negotiation table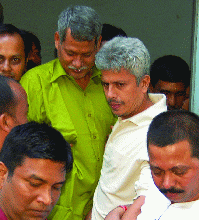 The arrest of two senior ULFA (United Liberation Front of Asom) leaders in the first week of November raised apprehensions that the banned outfit could opt for immediate disruptive activities in Assam.
The outfit was angry with the Bangladesh authority as it handed over Shasha Choudhury (its foreign secretary) and Chitraban Hazarika (its finance secretary) to the BSF (Border Security Force). The Indian border security forces were reportedly waiting for them at the Tripura border and finally both the top ULFA leaders came under the custody of the Assam police.
The news of detention of Shasha and Chitraban by 'some unidentified persons in civilian clothes' in Dhaka broke out as sensational media headlines from the source of ULFA itself.
Add a comment
Read more...