Nyokum Yullo starts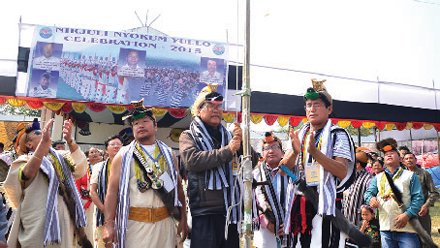 With the ceremonious reception of the priests, followed by flag hoisting at numerous celebration centres across Arunachal Pradesh and in Assam, the main celebration of the Nyokum Yullo'2015 started on 24thfeb 2015.
The Nyub(priests) Biri Tara at Nyokum Lapang, Kipa Kaha as main Yullo priest and Tadar Takiang as secondary at Nyirubjolli, Gollo Epo at Doimukh, Tadar Tasuk at Langte-Lote Nyokum, Pachin,
Kipa Chaking and Yura Aki at Banderdewa Nyokum Lapang and Dongda Tana at Jollang celebration centres with their Bu (Assistant priests) embarked into the celebration centres to propitiate Nyokum Anne to bless the mankind with bumper agricultural produce, productivity in human resources and animal husbandry, ward off all maladies of life like disease, death, famine and calamities. To mark the start of the main celebration – 24th to 28th of February, 26th February being the date of ritual sacrifice, the Nyokum flags have been ceremoniously hoisted in all the Nyokum centres.