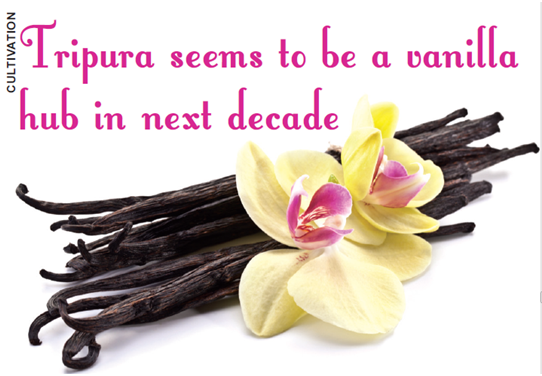 Ever the exotic, Northeast to add a hint of vanilla to its unfolding mysteries, thanks to an effort by Spices Board of India, which had airlifted 20,000 metres of vanilla vines to Tripura in 2005, a step, appears like a persuasive tribute to the world's favourite ice-cream flavour. In order to attract export market, the State Government has initiated a plan to make Tripura a vanilla hub for the region by next few years, as the state is blessed by a favourable agro climatic conditions for vanilla.
Senior Scientific officer of Bio Technology Anjan Sengupta said, there is an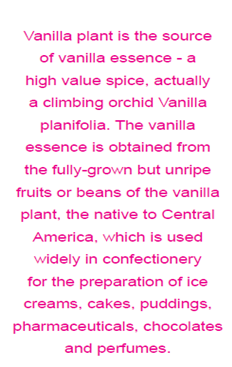 excellent opportunity for the farmers to benefit by cultivation of this high value crop and estimated the rate of returns a conservative sale price of Rs. 400/- per kg of processed vanilla beans at the farm gate. As part of encouraging vanilla cultivation in Tripura, Horticulture Department has made a demonstration plantation at Nagicherra, southern outskirt of Agartala. But paucity of planting material poses a problem even though vanilla produces seeds, these are difficult to germinate under normal conditions.
"We are doing propagation through cuttings because vanilla has also been multiplied through tissue culture", Mr Sengupta said adding that for commercial vanilla production, hand pollination is essential for fruit setting because Mellipona bees and humming birds pollinate the Vanilla flowers which are not found in Tripura. Considering the growing international market and the scope for exploiting the internal domestic market of the country, efforts were being made to increase the area to 3500 hectare by the year 2010, which is at present cultivated only about 1000 hectare in the country including about 150 hectare in Tripura. If Tripura is able to establish 500 hectare of vanilla plantation, producing at least 300 kg per hectare at maximum production, then, even at the modest price of Rs 400/- per kg of processed vanilla beans, the annual returns will be about Rs 6 Crore. This is far in excess of any other crop presently cultivated in Tripura and can help the state to achieve the dream of bringing prosperity to the people of Tripura while about one lakh rooted cuttings of vanilla can be dispatched to Assam, Mizoram and Nagaland where voluntary agencies are eager to launch into a new experiment, underlined Mr Sengupta.
Biswendu Bhattacharjee
To read the further article please get your copy of Eastern Panorama March issue @http://www.magzter.com/IN/Hill-Publications/Eastern-Panorama/News/ or mail to contact @easternpanorama.in