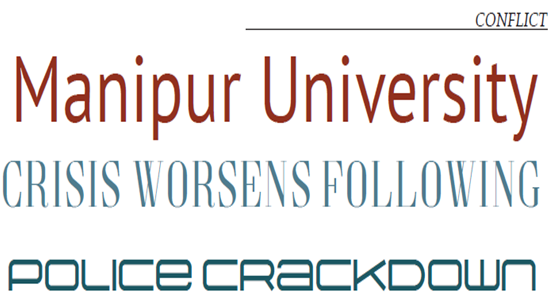 The unprecedented police action on the five boys' hostels of the university, six professors of the university and seven student leaders are lodged in jail under judicial custody with the arrested students and teachers refusing bail. Meanwhile K. Yugindro Singh, the Pro Vice Chancellor on whose complaint the police action took place has suspended the six arrested professors, following their remand in judicial custody.
Yugindro Singh had in his FIR stated that he was manhandled and threatened by section of students and teachers of the university when he along with Shyamkisho, the Registrar in-charge, went on September 19 morning during office hours to assume charge as the Vice Chancellor-in-charge by virtue of his appointment as the Pro Vice Chancellor by Vice Chancellor, Prof. AP Pandey just before he was suspended. Yogindro in his complaint narrated that he and Prof Shyamkisho were set free only when they signed an undertaking that they will not come back to their office and that they were sorry for what happened.
A lady professor who was present at the scene refute the charges saying, "there was no case of manhandling of professor Yugindro and Shyamkisho as alleged by professor Yugindro."Prof. Sumitra Phanjoubam further clarified, "I was present at the scene and I personally made sure decorum was maintained and no unparliamentarily words or abusive languages were hurdled against the two professors as alleged."
Agitating students and teachers opposed the appointment of K Yogindro as the Pro
Vice Chancellor saying it is in violation of the Manipur University Act 2005. Reacting to Prof Yogindro Singh breaking open the shield office of VC Pandey and assuming charge and next day, few hours after the police crackdown, senior most professor of the university, Prof. Vishwanth said, the act transgressed the code of the inquiry committee that had restricted entry into the said office until investigation is carried out.
Blaming the BJP led state government of supporting AP Pandey's move to sabotage the pending MHRD instituted enquiry into the alleged charges of derelictions of duty and responsibility against him, civil society organizations, student bodies of the state as well as the Congress party have termed the crackdown as a rape on the sanctity of the northeast's only central university and called a blot on democracy. Following the crackdown, the university campus has been heavily militarized and movement within and outside severely restricted with the state administration clamping the restrictive CrPc 144, preventing movement and gathering of more than 4-5 persons inside the university campus in Imphal.
Sunzu Bachaspatimayum
To read the further article please get your copy of Eastern Panorama March issue @http://www.magzter.com/IN/Hill-Publications/Eastern-Panorama/News/ or mail to contact @easternpanorama.in