Bird phenomenon at Jatinga starts with the resolution to save birds

Like every year, this year also the winged guests of Jatinga have started their arrival at Jatinga village. Unlike in previous years, this time young children have decided not to kill these winged guests of Jatinga as was done in earlier days. Earlier, the birds at Jatinga were being killed for consumption but this time several young children have come forward to save the birds coming to Jatinga.
Amnem Siangsai and D. Sumer, students of Class 6 and 7 rescued one beautiful bird (moorhen) at Jatinga. The bird came to Jatinga at about 10.20pm when these two boys were watching the bird phenomenon at Jatinga village.
Later they handed over the bird to the Additional Principal Conservator of Forest Sri Bikash Brahma, IFS at his bunglow.
Talking to this correspondent both the students said that they would start their campaign 'save birds' and let this add to the attraction of Jatinga village. They further said that these birds also have the right of life as do human beings therefore they requested all the elderly members of the society not to indulge in the killing of these beautiful birds and let them continue to visit Jatinga because this birds phenomenon adds to the importance of Jatinga village.
The mysterious bird phenomenon has made Jatinga world famous for the peculiar behavior of migratory birds at Jatinga which is located only 9 kms from Haflong, the district Head Quarter of present Dima Hasao district in Assam.
Every year, during the months of September to November, the birds mostly aquatic from various places throng a few specific locations near Jatinga under some specific weather conditions like moonless night, heavy fog, drizzling and the south–west direction of winds.
Though there has been a decline in the number of visiting birds due to environmental and climatic changes, the enthusiasm of bird lovers and bird watchers to witness this peculiar phenomenon is still going strong.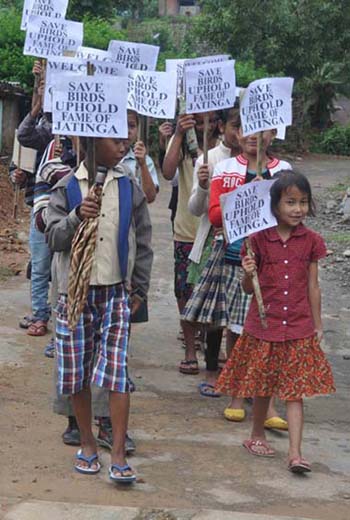 Jatinga children vow to save birds
As cited earlier, the children of Jatinga village famous for the mysterious bird phenomenon have decided to launch a campaign against the killing of birds at jatinga during this bird phenomenon which has made Jatinga a world famous spot of bird watchers and nature lovers.
On 5th September 2013, about two dozen children of Jatinga took out a procession from Step by Step school at Jatinga and marched through the entire village and converged again at the school premises. They were holding placards with messages like 'welcome to winged guests of Jatinga', 'Save birds, uphold the fame of Jatinga'. They, during procession also shouted slogans like 'chiriako bachana hai' and 'Birds are my friends'. At the school premises, they organised a film show with assistance from the Dima Hasao Forest Department in which several films were screened based on bird conservation and wildlife conservation.
Talking to the media Smart Siangshai, a student of class III said, "The birds coming to Jatinga during this phenomenon should not be killed for mere flesh, because these beautiful creatures come to Jatinga for some reasons and we are proud to see them. Therefore we the children of Jatinga promise to save these beautiful winged friends of us at any cost. We further appeal to the people of Jatinga to uphold the fame of Jatinga by saving these birds. If we kill them regularly then they will not come to Jatinga thereby the fame of Jatinga will disappear. In such a case, no birdwacther or nature lover would find any interest to come to Jatinga."
LK Hengna