Satsang - A novel plane of living

Satsang is a charitable philanthropic man making institution of world repute with millions of devotees and disciples belonging to various cast, creeds, communities and religious faiths in different walks of life from every nook and corner of the world with its headquarters at Satsang Nagar, Deoghar, Jharkhand. The life force of the institution is Sri Sri Thakur Anukul Chandra who is regarded as the living embodiment of infinite love and knowledge by devotees.
In the year 1946 Sri Sri Thakur all of sudden came to Deoghar at the age of 59 leaving behind the vast and well reputed Ashram at Himayetpur, Pabna, now in Bangladesh, worth immense wealth. He was followed by agood numbers of followers, leaving almost everything they had. They preferred the uncertain future ahead in the company of their Love Lord to a safe existence without him behind them.
In the most lonely and isolated part of Deoghar,Satsang began its activities housing all its followers in rented buildings. Here Sri Sri Thakur gave such impetus to his mission that it extended far and wide. People from different parts of India and abroad began to rush to Deoghar with their varied problems and queries. In the course of time, Satsang evolved normally and naturally according to the need of the times and thus the foundation of a disciplined and self sufficient society was laid. Neither money nor sorcery was his capital. Rather he proved his own diction "Man is wealth, not money, get hold of man, so far you can" through the demonstration in his personal life. Gradually various departments came up, out of necessity. At present the ashram has the following departments :-
Satsang Philanthropy: It is the main office of Satsang.In order to quicken and lessen the work load on the workers, the Philanthropy department has been equipped with a fully networked and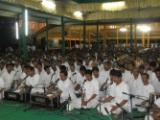 highly computerized system.
Ananda Bazar (Common Kitchen): The mother of Sri Sri Thakur, mother Monmohini Devi, would always arrange meals for the visitors who came to the ashram. No one was allowed to leave with an empty stomach.
The kitchen of mother Monmohini Devi came to be known as Ananda Bazar. Today to cope with the growing number of devotees and visitors, a seven storied building has been constructed where thirty five thousand people can take Prasad (meal) at any given time. Satsang Rashaishana mandir: As the last resort people used to come to Sri Sri Thakur to get rid of their respective sufferings. He used to give medicines often accompanied by their respective formulae. To preserve those formulae and to prepare herbal medicines the Rashaishana mandir came up. A highly sophisticated laboratory has been built to take up research work and develop new drugs.
Satsang Herbal Garden: A variety of species of herbs and plants are planted in a land covering a considerably large area. A number of rare exotic plants and herbs with great medicinal value have been grown. Vegetables and many fruit trees are also grown to meet the needs of the ashram.
Other departments are Satsang Publishing House,Satsang Charitable Hospital, Amardyuti Vidi Mandir (Library). The library along with an auditorium is well stocked with a huge and rare collection of modern and ancient books.
Veda Mandir: The centre for learning Aryan culture,vedas, Upanishads etc. Satsang Tapaban Vidyalaya and Satsang Binapani Vidya mandir: Both are schools for boys and girls respectively. Moreover Satsang Amardyuti College,Kristibandav Natyashilpam (music and dramatic institution), Yati Ashram, Satsang Press, Electricity Supply Department, Carpentry Section, Engineering and Mechanical Workshop, Horticultures and Water Supply Department. Due to shortage of water in Deoghar, rain water is being preserved in an advanced process. Guest Houses are being built for accommodation for the visitors. At present 30000 devotees can be accommodated.Memoria and Smaran Saudha are two buildings where the articles of Sri Sri Thakur and of Sri Sri Borda are preserved respectively in their original condition. The campus of Satsang with various departments which had taken shape to meet the growing necessities of the ashram with thousands of persons engaged therein has become the center of activities attracting a stream of visitors, well wishers and patrons every day. At present Satsang has more than 5000 (five thousand) big and small centres, called Satsang Vihar,
Satsang Kendra(center), ThakurBari etc. throughout the world. Proposed Sandilya University: Sri Sri Thakur considered the emancipation of mankind to be the real aim of education. He wished to establish an ideal education centre of higher learning, to be named as Sandilya University at Deoghar and which will revive the past glories of the ancient universities like Nalanda, Taxila, Ujjaine, Vikramshila. Thakur says "Where varieties arrive with a meaning at unity, it is University".
Proposed Ganga-Darwa Project: Sri Sri Thakur wished to join the Ganga and the Darwa river through a canal which will flow through Santhal Parganas touching Deoghar. Thus it will bring water and life to lacs of poverty stricken people of the district. Devotes of Sri Sri Thakur have been making a serious effort to convert the rain fed river Darwa into a perennial river. To materialize the project Sri Sri Thakur approached a number of leaders and politicians, including Late Lal Bahadur Shastri when he came to Deoghar to meet Sri Sri Thakur. Even Pt. Binodananda Jha, the then Chief Minister of Bihar often used to visit Sri Sri Thakur. However it is hoped that these two important and essential projects will be successfully completed in the near future.
Love for mankind has solidified the foundation of this belief system. The philosophy of man making and nation making blended together in the social philosophy of Sri Sri Thakur Anukul Chandra is manifest in the activities of Satsang and its branches.