CRAZY AMERICANS CAN DO ANYTHING!!!!
FAKE NEWS Reports PUBLISHED IN US Websites
"A lie can travel halfway around the world while the truth is putting on its shoes" -Mark Twain
As a news reporter, Mark Twain planted many a false story in the newspapers. In 1864, he even left Nevada in an extreme hurry to save himself from a duel-fight with someone against whom he had written a hoax news report.
Hence, this celebrated writer was absolutely true when he made the above observation. False news stories do become global sensations while the original ones don't spread over the city's boundary. Just see what impact the false "Assam Rape Festival" story had had. It created global ripples!
The report filed by David Emery which appeared in the website Nationalreport.net, was shared more than 212,000 times on Facebook and around 1,800 times on Twitter. Even as the false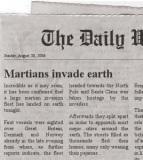 report created a global flutter with hardly any media house missing to mention it, the Assam Director General of Police (DGP) Jayanto Narayan Choudhury has ordered a probe into it. The Police has taken up a suo moto case.
What could present-day "Policewallah" do? In Twain's time, in lawless America, one would fight a duel with sword or revolver to the death to avenge the planting of false reports. Today, one has only to move to the court to challenge false news or file a defamation suit.
Emery's report begins thus: "Assam, INDIA — Men in India are already beginning to celebrate as the annual Assam Rape Festival is just days away. Every non - married girl aged 7-16 will have the chance to flee to safety or get raped."
Witness Emery's figment of imagination - he writes that Madhuban Ahluwalia who heads up the annual festival told reporters why the event is so important. "This is a long time tradition in Assam dating back thousands of years," says Ahluwalia. "We rape the evil demons out of the girls, otherwise they will cheat on us and we will be forced to kill them. So it is necessary for everyone." This reporter even invented a fictitious name: Madhuban Ahluwalia.
When this false report, very well drafted indeed, was posted in the first week of November, 2013 in the website nationalreport.net of USA, Indians reacted immediately while foreign news sites reproduced it further adding to the hype. Nowhere on the website was it mentioned that it publishes fake news. Americans are simply crazy. Can you believe, there are a large number of magazines and websites that publish fake news stories and false stories? Chicago based Onion is a very popular false story website.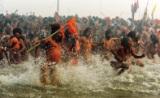 As far as falsehood is concerned,nothing much has changed in USA since 1864 when Mark Twain fled from Nevada because he had planted a baseless news report. It is strange that the US government allows such fake news portals to function. Can you believe, on August 30, 2006, "The Daily Whatever" – a strange name for a newspaper – published a story saying that people from Mars have invaded Earth.
Assam police said it will take up the matter with the website and the CID's cyber crime cell will conduct a probe. The CID investigations have revealed that the article was sourced from Uganda and the website is hosted in Houston in the US.
The news reporter's imagination has to be marveled at. He traced this rape festival to 43 BC when Baalkrishan Tamil Nadu raped everyone in his village Doomdooma. He wrote: Baalkrishan Tamil Nadu is remembered every year at this event, in fact the trophy given to the man with the most rapes is called "The Baalkrishan".
Emery, the reporter, even quoted some young men and women in this false report to make it appear absolutely true. He wrote: 24-year-old Harikrishna Majumdar told reporters that he has been training all year for this event. "I'm going to get the most rapes this year. I've been practicing all year. I rape my sister and her friends every day. I will be rape superstar number one! I will get the Baalkrishan prize this year for sure!"
12 - year-old Jaitashri Majumdar told reporters she almost made it through last year's festival without getting raped. "I came so close to not getting raped. I almost got to the 'rape-free-zone' at the edge of town, but at the last minute 9 men jumped on me and raped me. Luckily I am just recovering now so I can participate in this year's event, otherwise I would be put to death by stoning."
34 - year-old Brian Barnett from Toronto who is visiting Assam on business told reporters he will be missing the festivities this year. "My company did not tell me anything about a rape festival happening while I was here. Are you serious, a rape festival? I'm getting out of this backwards country tonight."
The piece says the man who rapes the most will be awarded The Baalkrishan trophy. It also says: "For more information on the festival or if you would like to participate, please call the 24-hour Assam Rape Festival hotline at (785) 273-0325."
Amlan Home Chowdhury