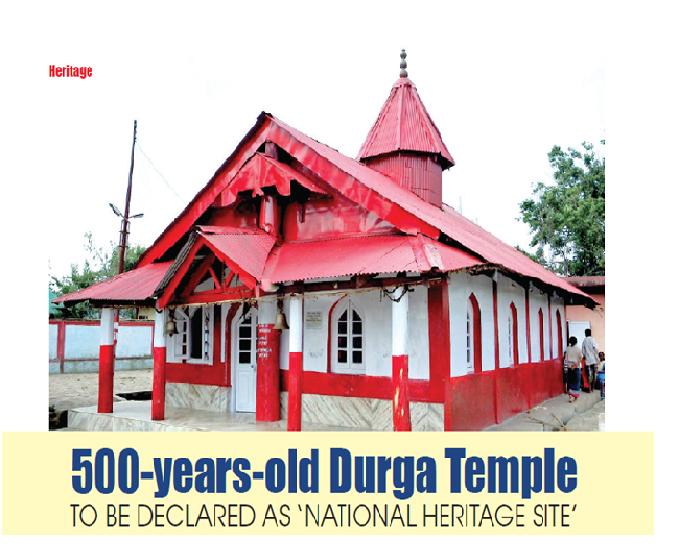 The Union minister Kiren Rijiju during his visit in the State was astonished to see this well preserved and unique temple in the hilltop of West Jaintia hills. This 500 Years old Durga temple is located at the hill top of Nartiang Village. The Home Minister had urged the Ministry of Tourism and Culture Government of Meghalaya to take necessary measures to make the village as the centre of attraction.
The Village of Nartiang was the summer palace of the Jaintia King whose capital was Jaintiapur. It celebrates Durga Puja every autumn in a unique way with the fusion of culture of Bengal and that of Khasi-Jaintia Hills. Following the Khasi custom of not using figurine images of Gods and Goddesses, the image of Durga is represented by a plantain trunk decked with marigold flowers and the priests who practice there are direct descendants from Jaintiapur.
The Nartiang Devi temple is believed to be of Shakti Peetha, one of the most revered shrines of Shaktism because Shakti Peethas are holy abodes of Parashakti. The Shakti Peethas have originated from the mythology of Daksha yoga and Sati's self immolation. Shiva carried the corpse of Sati Devi and body parts of the corpse, fell in the path he wandered. There are 51 Shakti Peeth linking to the 51 alphabets in Sanskrit. Each temple has shrines for Shakti and Kalabhairava. The "Shakti" of Nartiang Devi shrine is addressed as "Jayanti" and the "Bhairava" as "Kramadishwar." It is believed that Sati Devi's left thigh has fallen here.
Donboklang Wanniang
To read the further article please get your copy of Eastern Panorama March issue @http://www.magzter.com/IN/Hill-Publications/Eastern-Panorama/News/ or mail to contact @easternpanorama.in