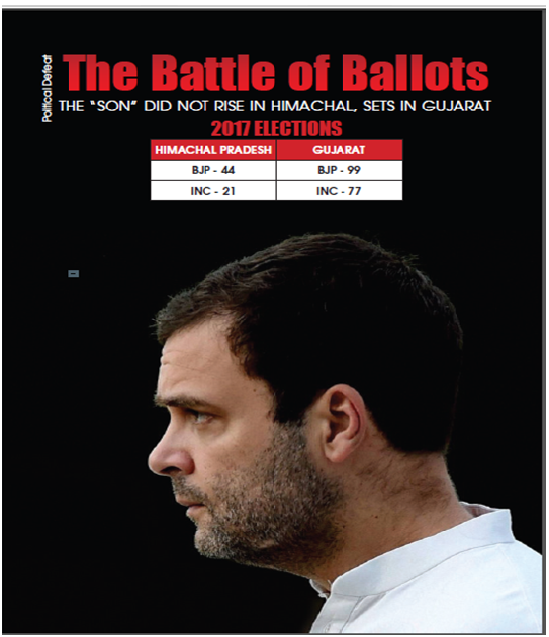 In the very tricky political chessboard of India, the dynastic game of Congress, this time appears to have kissed the dust.The reason? The reason is the "Son" could not rise in Himachal Pradesh despite the fact that it was ruled by the Congress. The"Son" also failed to cash upon the anti-incumbency factor in Gujarat to justify his elevation as Congress super-boss.
In Indian politics, everyone takes it for granted that the "Sons" of political families would rise. Some rose, but mostly they set like the sun. Much hope was pinned on "Son" Rahul Gandhi by the supporters of Congress who expected him to rise like the Sun. But he failed. The Congress is now ruling only in four states: Karnataka, Meghalaya, Punjab and Mizoram.
Failure of the "Son" is on two counts: Firstly, he flopped to retain Himachal and secondly, he fumbled to foment the antiincumbency factor in Gujarat, although he had tremendous political scopes to reap the benefits from anti-incumbency in Gujarat and retention of Himachal (being a ruling party).
During his electioneering in hilly Himachal, Rahul tried to defame Prime Minister Narendra Modi and BJP with Himalayan efforts, but failed miserably to make an impact on the electorate. Failure of his political maneuvers can be gauged from the fact that he flopped miserably to retain the rule of Congress in Himachal. At the same time, the number of seats won also plummeted drastically as compared to the last polls. The Congress could bag only 21 seats in Himachal while BJP secured 44 seats in the 68-seat legislative assembly.
But we have to praise Rahulji for his wonderful sense of complacence. As if emerging victorious like Alexander the Great, the most powerful political "Son" said, reacting to Gujarat and Himachal Pradesh poll results, "satisfied, not disappointed."
A man of such broad mindedness should really take Sanyas from active politics and enlighten others by lecturing on the glory of complacence and golden rules of getting "satisfied" from defeats.
Rahulji certainly has opened up a new dimension in Indian politics. If double-defeat is a matter of satisfaction for a politician then what would happen in future polls? The Congress is already melting like a piece of ice and such "satisfaction" of the party's superboss perhaps would ultimately result in the total melt down of the ice. But the strangest fact is that within the Congress no senior leader is opening their mouth.
In Gujarat, Rahulji toured extensively delivering anti-Modi lectures, visiting temples but spoke less about the atrocities perpetrated on minorities (as is the usual tradition for all non-Saffron political outfits). People suddenly saw the "Son" turning into a Bhagwan Bhakt by visiting various temples. But such sudden surges of Bhakti towards Hindu gods created a misunderstanding among the masses. So far, Rahulji had always been crying for the safety and welfare of the Muslims. Naturally, his repeated visits to temples in Gujarat created doubt among the electorate.
This is here where his political inexperience played a second fiddle. Here, a very tricky question arises. Why did anti-incumbency factor not work in Gujarat? We certainly can offer the following as pertinent reasons for failure of anti-incumbency factor:
Amlan Home Chowdhury
To read the further article please get your copy of Eastern Panorama March issue @http://www.magzter.com/IN/Hill-Publications/Eastern-Panorama/News/ or mail to contact @easternpanorama.in