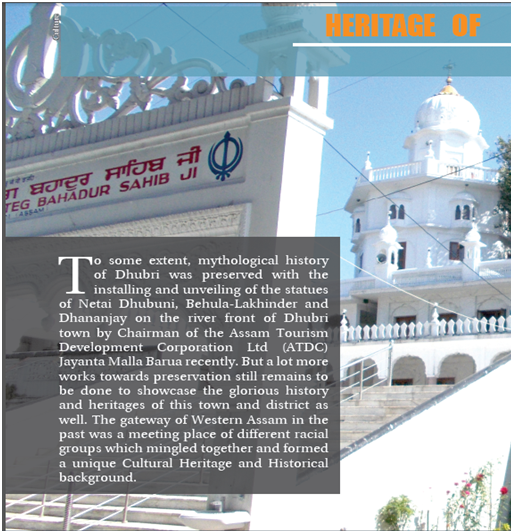 The growth of blended culture in this region grown particularly in the areas of language, art and religion is due to the continuous process of assimilation of various races, castes and creeds of local people, invaders and migrated people. Dhubri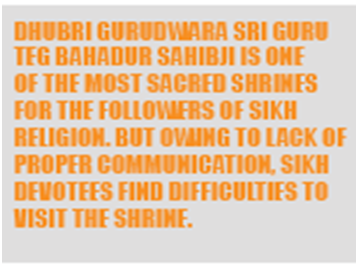 District is bounded both by inter-state and International border West Bengal and Bangladesh in the west, Goalpara and Bogaigoan district of Assam, Garo Hills district of Meghalaya in the east, Kokrajhar district in the North, Bangladesh and state of Meghalaya in the south. The name Dhubri believed to have been derived from Netai Dhubuni , a washer woman mentioned in Padma Puran and Kalika Puran. It is known from the tale of Chand Sadagar, where the main character of the legendary folk tales called Netai used to wash the clothes of God and Goddess of heaven on the bank of the river Brahmaputra.
Dhubri Town: Dhubri is one of the oldest places in Assam and was an important seat of administration since the days of British rule, till the partition of the country. History of Dhubri presumed to be over 450 years old and many relics, monuments and religious places of worships found here, dates back to 15th century. Dhubri district is situated in the extreme western corner of Assam, sharing 134 kms border including riverine border. But since after partition of the country in 1947, the district gradually lost its pride and glory in all respects. Mighty Brahmaputra ends its journey in the Indian Territory here in this district. It flows nearly 98 kms through the middle of the district turns south at Dhubri ending over 800 kms journey of Assam part and enters Bangladesh. Present Dhubri district was a subdivision of erstwhile Goalpara district with headquarter of the district at Dhubri town. But Dhubri became district in 1983 with seven assembly constituencies of which four constituencies are located along the Indo-Bangladesh border. Dhubri is a historic district known for vibrant cultural activities, bubbling trade and commerce prior to independence because of all the four modes of communication networks. The district being distinct, is connected with four modes of transportations – road, rail, river and air. NH 31 is just 8 kms away from Dhubri town, Dhubri Railway Station is the oldest in Assam which came up in 1904, Dhubri River Port in Dhubri town was also one of the few river ports which came into being in 1789, when East India Company started its commercial and passenger navigation. Also Rupshi Airport became operational during World War II near Gauripur. Apart from this, the district also finds its prominent place of religious activities in the country and state as well. Dhubri Gurudwara Sri Guru Teg Bahadur Sahib Ji and Panchpeer Dargah founded around 350 years ago, Ramraikuti Satra at Satrasal border founded by the greatest Vaisnavite Preacher, Srimanta Sankardev in 15th century while Mahamaya Dham, a temple of mother goddess is highly revered by Hindus as the presiding deity of this area after Kamakhya dham in Kamrup district of Assam. Alomganj Mosque is the oldest mosque in Assam built by Shah Hussain, mosque built by Mirzumla in Panbari and Kamakhya Dham in Mancachar – all these religious places of Hindus, Muslim, Sikh, Vaisnavites and Sufis confluences in the district which is rarely found elsewhere in the country. In addition to these, the district is dotted with many historical and important places and lively cultural places. Terracotta cluster villages in Asharikandi and Pith-Craft Malakar village near Gauripur and Jute Craft in Char (River Island) village which is traditionally being run by the villagers, adds beauty to the socio-economic and cultural life of Dhubri district. Gauripur, a seat of Goalpariya culture and renowned Goalpariya folk-singer and recipient of Padmashree, Pratima Barua Pandey and her sister internationally acclaimed elephant expert, Parbati Barua and Pramathes Barua, doyen of celluloid famed for creation of Devdas movie and a series of films, all are from this district.
Bijoy Kumar Sharma
To read the further article please get your copy of Eastern Panorama March issue @http://www.magzter.com/IN/Hill-Publications/Eastern-Panorama/News/ or mail to contact @easternpanorama.in