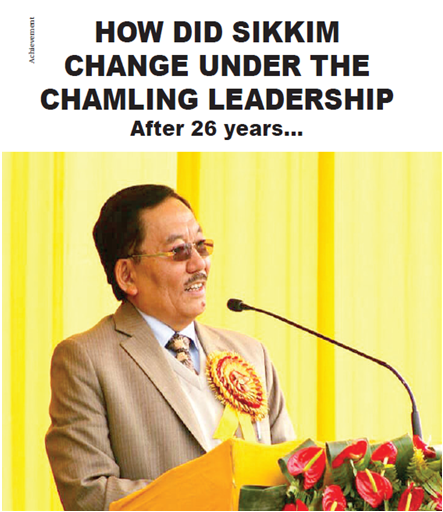 Nobody could have ever imagined that a young man in his forties who had just managed to form a Government with 19 MLAs in 1994 would go on to become India's longest serving Chief Minister. There were reasons behind our doubts. Let me enumerate some of the reasons why he had very little chance to really plant his feet as Sikkim's strongest political leader.
One, the timing of his emergence as an alternative leader in Sikkim was the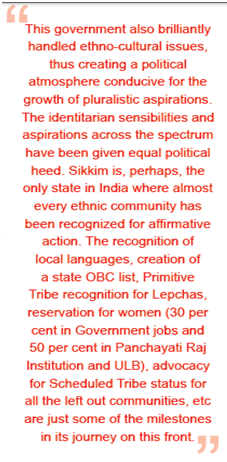 toughest. He had to challenge and defeat Sikkim's most powerful and arguably, most popular leadership of the day to claim his stake in the state's highest level of politics. Even after his victory in the 1994 general elections, there was every possibility of the Sikkim Sagram Parishad, under the late NB Bhandari, bouncing back. The SSP had evolved as the strongest political organization and its leader had already ruled Sikkim as Chief Minister for three terms. Needless to say, the SSP still enjoyed a fairly commanding presence, particularly in East Sikkim. With a vast political maturity and seeming wisdom, NB Bhandari was a formidable opponent leader.
Two, the opposition parties were not sitting quietly. Just a couple of years after the SDF Government was formed, the opposition parties alleged the Chamling Government of diluting Article 371F. Sundry leaders tried hard to convince people to support them and they explored the possibility of toppling the Government. Gangtok witnessed a huge uproar in 1997. Would the SDF Government die a premature death? Some thought so. How would a two year old 'rookie' Chief Minister respond to this crisis? He went to the people who had given him the mandate and people from all over the state, came in droves to reassure their new-found Chief Minister of their trust and allegiance. The weathered leader not only came out victorious but stronger and more confident.
Three, it has never been easy for any regional political parties in Sikkim to hold on to power. Sikkim's political history is replete with ruling regional parties or Chief Ministerial leaders joining national parties one after the other. The first Chief Minister, the late LD Kazi started the trend by first merging his party with the Indian National Congress in 1975 and then with the Janata Party in 1977. He was even called the man of mergers. The second Chief Minister, the late NB Bhandari followed suit. He merged his Sikkim Janata Parishad with Congress in 1981 and then, just a few decades later, he left the Sikkim Sangram Parishad to join Congress again in 2003. Two other Chief Ministers of Sikkim had to become congressmen as well. Against the backdrop of such political dynamics, the SDF's endurance was least expected.
For any regional party of a small state like Sikkim to have held the regional aspirations for so long is one thing. But to have won a public mandate regionally for so long and not just that, national confidence is nothing less than extraordinary. What kept the Chamling leadership floating for so long with such success? His unprecedented feat of becoming the longest serving Chief Minister testifies to his smart handling of both national interests and regional aspirations seamlessly which resulted in some profound changes in a few crucial areas. Here are a number of those areas that saw changes.
Jiwan Rai
To read the further article please get your copy of Eastern Panorama March issue @http://www.magzter.com/IN/Hill-Publications/Eastern-Panorama/News/ or mail to contact @easternpanorama.in