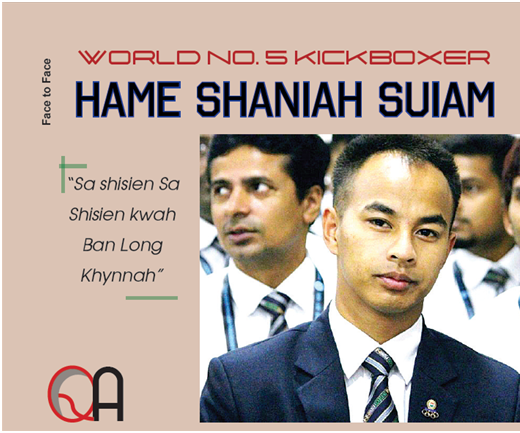 Hame Shaniah Suiam four times National Gold Medalist hails from Shangpung, Jaintia Hills Meghalaya. His last international bout was in December 2017 in Budapest Hungary where he came short of getting a medal. In the previous year's, Suiam had already taken part in various International tournaments in the World Association of Kickboxing (WAKO) which includes World Cadets & Junior Kickboxing Championship at Rimini, Italy in 2014 and World Senior Kickboxing Championship at Ireland Dublin in 2015. From then onwards, he has been regularly selected by WAKO India Kickboxing Federation to take part in the International tournament to represent the country and State as a whole. Suiam had recently obtained a diploma certificate as international referee/ judge at the WAKO International Kickboxing Referee Seminar at Lonavala, Maharashtra. Eastern Panorama interacted with the young talent, to know more about his line of thought in personal.
Q. Can you tell us something about your journey into this profession?
A: I started kickboxing at the age of 10 under the guidance of my Master Sardonyx Suchiang at my native place Shangpung in West Jaintia Hills. I received first-degree black belt in Kickboxing in 2013 and attained Gold medal four times representing India at International Level. I have also been a certified National coach in the sports category under the supervision of National coach of Italy.
Q. How do you feel being rank world number five in kickboxing?
A: Regarding the World Championship, it is not actually about ranking but since I scored 5th in the concluded competition in Budapest where I lost to Radulov Borislav ranking world no 2 in kickboxing from Bulgaria. To be in the ranking, we need to compete in at least five international competitions. Hopefully, in the next Championship, I can do better with what I have learned from the previous competition.
Q. What is your future plan?
-with Rashmi Mizar
To read the further article please get your copy of Eastern Panorama March issue @http://www.magzter.com/IN/Hill-Publications/Eastern-Panorama/News/ or mail to contact @easternpanorama.in