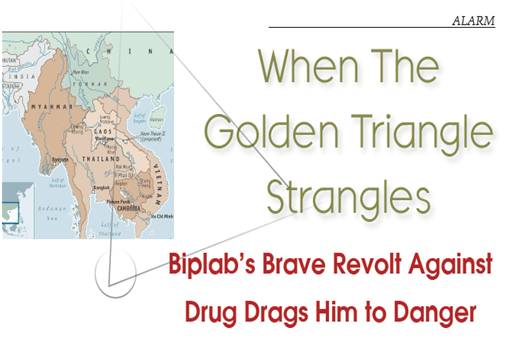 If you have not yet seen the action-packed Operation Mekong, you must do it now, not only for the sake of super-thrill but also to have an idea of how dangerous is the blood-soaked events that take place in The Golden Triangle.
Tripura, willy-nilly, is a small component of this vicious Triangle. No wonder, the state's Chief Minister received a death threat from the operators of the Golden Triangle.
This 2016 film Operation Mekong, based on the actual event of the Mekong River Massacre of September 30, 2011 in which 13 Chinese sailors were brutally murdered by dreaded drug lord Naw Kham of Myanmar, happened to an all-time hit in the cine-screens of China and Hong Kong.
One of the world's most thrilling expeditions was launched by China and Laos virtually strangling the entire Golden Triangle to nab Naw Kham. And the ruthless-trigger happy Naw Kham was nabbed and extradited to China. And what happened next?
Naw Kham was executed by lethal injection together with Thai-citizen Hsang Kham, a Laotian man Zha Xika and Yi Lai: a stateless.
The term Golden Triangle denotes the confluence of Ruak and Mekong Rivers where the borders of Thailand, Laos and Myanmar meet. Really intoxicating events keeps on happening there. Why not? Was not it named so by the Central Intelligence Agency (CIA) of USA?
We know anything that is associated with the spying outfit CIA creates sensation. No wonder this Golden Triangle currently is creating a sensation mixed with anger in India. The reason is the drug lords of Myanmar has threatened to eliminate the Tripura Chief Minister Biplab Kumar Deb, as he is waging a war against the drug.
This brave anti-drug move by the Chief Minister under his "Nasha Mukt Tripura" programme has been welcomed by the Central Government and all others. This, however, has irked the most dangerous lords of Myanmar's ring of drug business.
Obviously, their sinister business has suffered a very major jolt. Tripura also had been acting as a major conduit of drug-push to Bangladesh. Hence, anti drug war in Tripura directly means spoiling their drug business in Bangladesh.
Addressing a press conference in Agartala earlier in September, 2018, the BJP leader Ratan Chakravorty claimed that the Union Home Minister Rajnath Singh received reports that drug lords recently met at Naypyidaw in Myanmar and hatched a plot to liquidate the Chief Minister.
Daring the Drug Lords
Under his "Nasha Mukt Tripura" programme, the Chief Minister personally supervised the destruction of drugs, arrest of drug peddlers and sealing those border points with Bangladesh and Myanmar that had traditionally been used to smuggle cross-border smuggling hitting the very economy of the narcotics lord.
Since he came to power, the police not only arrested over 250 drug peddlers but also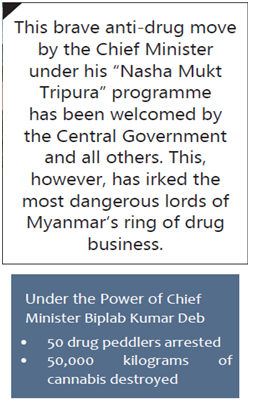 destroyed 50,000 kilograms of cannabis. The illicit trade in cannabis, Ya Ba, narcotic pills, heroin, brown sugar and other psychedelic elements involved a hefty annual transaction of Rs. 1,500 crore in Tripura. Naturally, it hit the Myanmar drug lords.
The bold move of Biplab Kumar Deb created a major flutter among the Myanmar drug lords as it put their business at a grave danger as they just cannot carry out their business without Tripura, Meghalaya, Mizoram, Nagaland and Manipur. Myanmar shares border with Manipur and Mizoram.
Since the border areas are mountainous and infested with jungles, it is very easy to smuggle large consignments of drug into these two Northeastern states. From there, the consignments come to Tripura and from Tripura they go to Bangladesh. The ongoing war against drug in Tripura directly hits the entry of psychedelic elements of Myanmar into Bangladesh. The ongoing anti-drug in Tripura also hampers drug-push into Assam, Meghalaya, Sikkim, West Bengal and Nepal.
The Narcotics Control Bureau (NCB) says Tripura is one of the major hubs of drug trade from Myanmar. The cannabis or Ganja is cultivated on a large scale in Tripura. The state also acts as transit and conduit of drug smuggling. Besides, massive quantum of drugs lands in the state from Myanmar.
Amlan Home Chowdhury
To read the further article please get your copy of Eastern Panorama March issue @http://www.magzter.com/IN/Hill-Publications/Eastern-Panorama/News/ or mail to contact @easternpanorama.in